SNA Committees and Councils are made up of appointed SNA members from around the country. They work to further the mission of SNA in alignment with the Strategic Plan.
Leadership Opportunities
Would you like exciting opportunities to grow professionally, bring a fresh perspective to national issues, and network with other school nutrition professionals? Consider an SNA leadership position!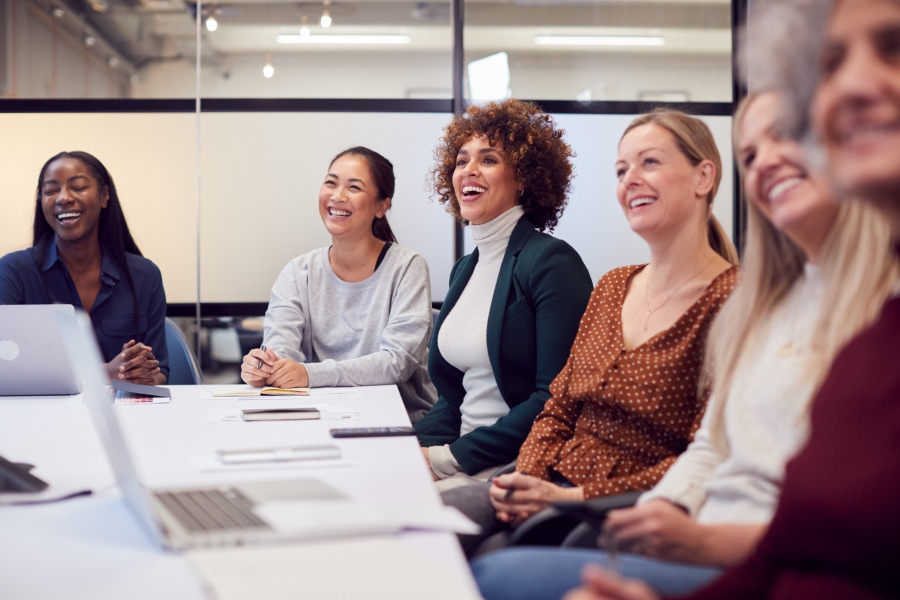 | President | Period of Service | State |
| --- | --- | --- |
| Beth Wallace, MBA, SNS | 2021-2022 | Colorado |
| Reginald Ross, SNS | 2020-2021 | North Carolina |
| Gay Anderson, SNS | 2018-20 | South Dakota |
| Lynn Harvey, EdD, RDN, SNS | 2017-18 | North Carolina |
| Becky Domokos-Bays, PhD, RD, SNS | 2016-17 | Virginia |
| Jean Ronnei, SNS | 2015-16 | Minnesota |
| Julia Bauscher, SNS | 2014-15 | Kentucky |
| Leah Schmidt, SNS | 2013-14 | Missouri |
| Sandra Ford, SNS | 2012-13 | Florida |
| Helen Phillips, SNS | 2011-12 | Virginia |
| Nancy Rice, SNS | 2010-11 | Georgia |
| Dora Rivas, SNS | 2009-10 | Texas |
| Katie Wilson, PhD, SNS | 2008-09 | Wisconsin |
| Mary Hill, SNS | 2007-08 | Mississippi |
| Janey Thornton, PhD, SNS | 2006-07 | Kentucky |
| Ruth Jonen, SNS | 2005-06 | Illinois |
| Donna Wittrock, SNS | 2003-04 | Colorado |
| Gaye Lynn MacDonald, SNS | 2002-03 | Washington |
| Marcia L. Smith, PhD, SNS | 2001-02 | Florida |
| Marilyn Hurt, SNS | 2000-01 | Wisconsin |
| Phyllis M. Griffith, SNS | 1999-00 | Ohio |
| Martha C. Hill, SNS | 1998-99 | West Virginia |
| Melinda S. Turner, SNS | 1997-98 | Kentucky |
| Janet H. Bantly | 1996-97 | Connecticut |
| Penny McConnell, SNS | 1995-96 | Virginia |
| Vivian Pilant, PhD, SNS* | 1994-95 | South Carolina |
| Dorothy Caldwell | 1993-94 | Arkansas |
| Elizabeth McPherson* | 1992-93 | North Carolina |
| Sue Greig* | 1991-92 | Kansas |
| Anne Gennings | 1990-91 | New York |
| Beverly Lowe, SNS | 1989-90 | Virginia |
| Shirley Watkins | 1988-89 | Tennessee |
| Jane Wynn | 1987-88 | Florida |
| Thelma Becker* | 1986-87 | Pennsylvania |
| Sharon Gibson Barksdale | 1985-86 | Missouri |
| Betty Bender* | 1983-84 | Ohio |
| Clarice Higgins | 1982-83 | Florida |
| Gertrude Applebaum | 1981-82 | Texas |
| Mary Nix | 1980-81 | Georgia |
| Betty Harney* | 1979-80 | Colorado |
| Johanna McCabe | 1978-79 | New Jersey |
| Gene White, SNS* | 1977-78 | California |
| Josephine Martin, PhD* | 1976-77 | Georgia |
| Elsie King* | 1975-76 | Arizona |
| Helen Walker* | 1974-75 | Florida |
| Lucille Barnett | 1973-74 | South Carolina |
| Louise Sublette* | 1972-73 | Tennessee |
| Norman Mitchell* | 1971-72 | Arizona |
| Virginia Farley* | 1970-71 | Indiana |
| Helen McGee* | 1969-70 | Oklahoma |
| Helen Myers* | 1968-69 | Ohio |
| Marion Cronan* | 1967-68 | Massachusetts |
| Doris Ann Howell | 1966-67 | Texas |
| George Mueller* | 1965-66 | Missouri |
| Helen Diehl* | 1963-64 | New York |
| Gerald Ramsey* | 1962-63 | Texas |
| David Page* | 1961-62 | Missouri |
| Ruth Cutter* | 1960-61 | New Hampshire |
| Elizabeth Goodman* | 1959-60 | Minnesota |
| Anne Maley* | 1958-59 | North Carolina |
| Harvey Allen* | 1957-58 | New York |
| Evelyn Smithers* | 1956-57 | Louisiana |
| Josephine Morris* | 1955-56 | California |
| Margaret Prentice* | 1953-54 | New York |
| Eva Hurley* | 1952-53 | Missouri |
| Ruth Wood Williams* | 1951-52 | California |
| Winning Pendergast* | 1950-51 | Michigan |
| Thelma Flanagan* | 1949-50 | Florida |
| Mary DeGarmo Bryan* | 1948-49 | New York |
| Betsy Curtis* | 1947-48 | Ohio |
| Constance Hart* | 1946-47 | New York |