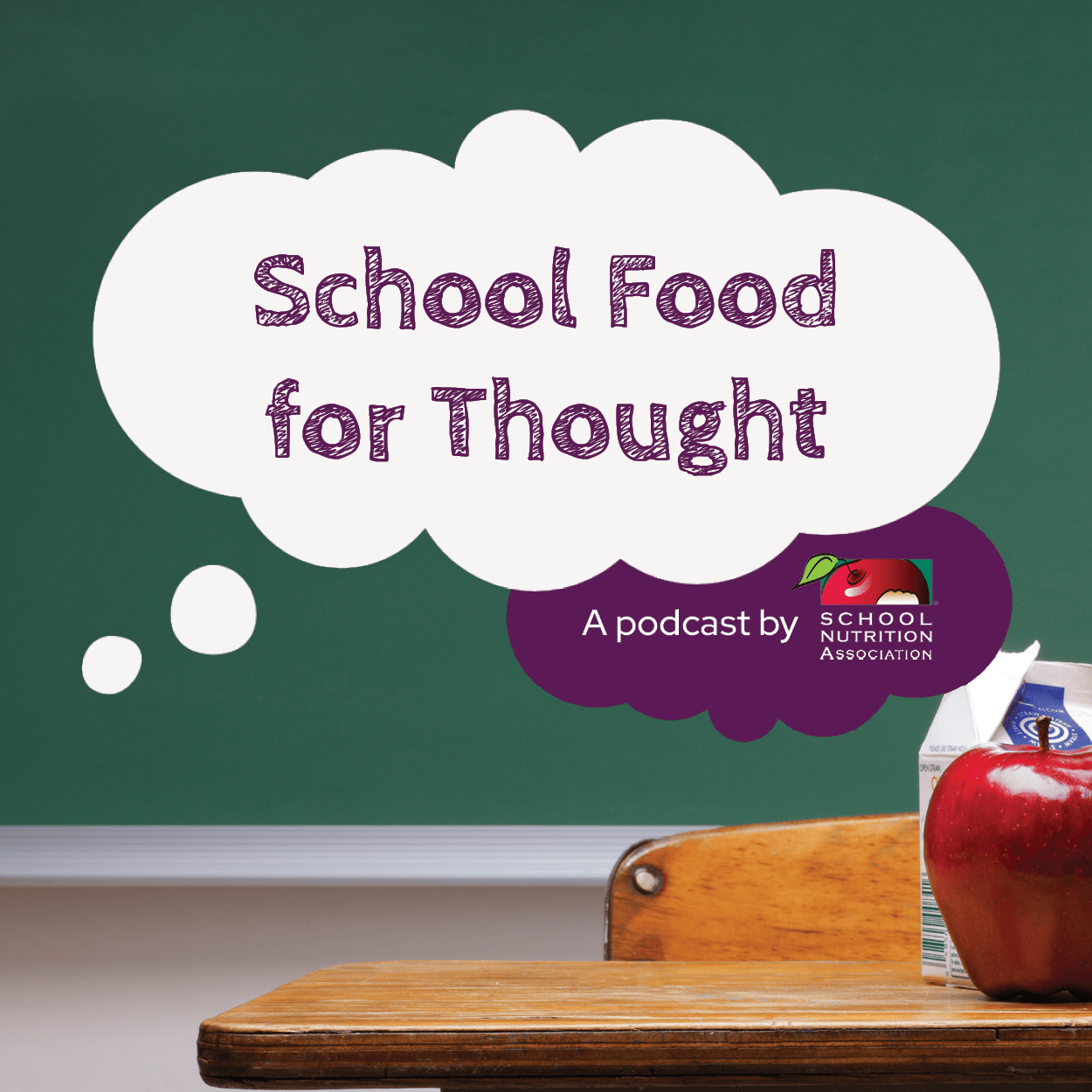 Introducing School Food for Thought, the School Nutrition Association's podcast and your newest source of insights and knowledge about school nutrition, K-12 foodservice and the latest industry trends.
Join us as we dive into fascinating conversations with school nutrition leaders who share their experiences and expertise on a wide range of topics, from creating delicious menus and designing inviting cafeterias to managing finances and leading teams.
Want CEUs? Each episode awards 0.25 to 0.5 CEUs after passing a short quiz, linked with each episode below.
Subscribe and listen on Spotify, Apple Podcasts, Google Podcasts or on the media player for each episode.
Episode Five
Creating and Maintaining an Excellent Culture in School Nutrition Staff
Release date: November 9, 2023
Positive workplace culture starts at the top! Doug Massey of Klein Independent School District in Texas, and Alisa Roman of Lewiston (Maine) Public Schools, they have a lot in common, despite their geographic distance, including their leadership style, love for the profession and incredibly successful and diverse teams built on solid values and strong cultures.
Episode Four
Doing More Than the Impossible
Release date: October 9, 2023
Community partnerships are key for successful school nutrition programs. Chris Burkhardt, SNS, of Cincinnati (Ohio) Public Schools, and Naim Walcott of West Hampton (N.Y.) Unified School District, discuss the power of these partnerships and how to work with different stakeholders to advance school nutrition programs.
Episode Three
Bringing Fun Ethnic Foods into Cafeterias
Release date: September 9, 2023
SNA Secretary/Treasurer Warren DeShields of Bridgeton City (N.J.) Public Schools and Brianne Pulver of Auburn (Mass.) Public Schools discuss diversity and inclusion in school cafeterias and different ways school food directors can engage with their communities. Warren and Brianne also share their experiences navigating the school nutrition profession and how they hope to bring more diversity to the profession they love.
Episode Two
Engaging the Whole World in the Cafeteria
Release date: August 9, 2023
School cafeterias are full of students from all over the world. E. Nichole Taylor of Chichester School District in in Pennsylvania, and Lindsay Aguilar, RD, SNS, of Tucson (Ariz.) Unified School District, chat about their experiences bringing the world together in their cafeterias. Topics include serving diverse communities, supporting refugee families,  asking parents to share their favorite recipes and  make some students feel at home while giving others a taste of the world.
Episode One
What's on the Horizon for School Nutrition?
Release Date: July 9, 2023
From local foods to sustainability to recruiting the next generation of school nutrition professionals, what's coming in the future of school nutrition? SNA President Chris Derico, SNS, of Barbour County (W.Va.) Schools, and Stefanie Giannini, MA, SNS, of Marquardt School District 15 in Illinois, talk about their predictions, as well as the financial challenges of running a successful program, supply chain issues and the increasing role that technology has played in the industry.