Connect and collaborate at SNA's School Nutrition Industry Conference (SNIC), the most innovative conference in school nutrition!
January 15-17, 2023 |  San Diego, California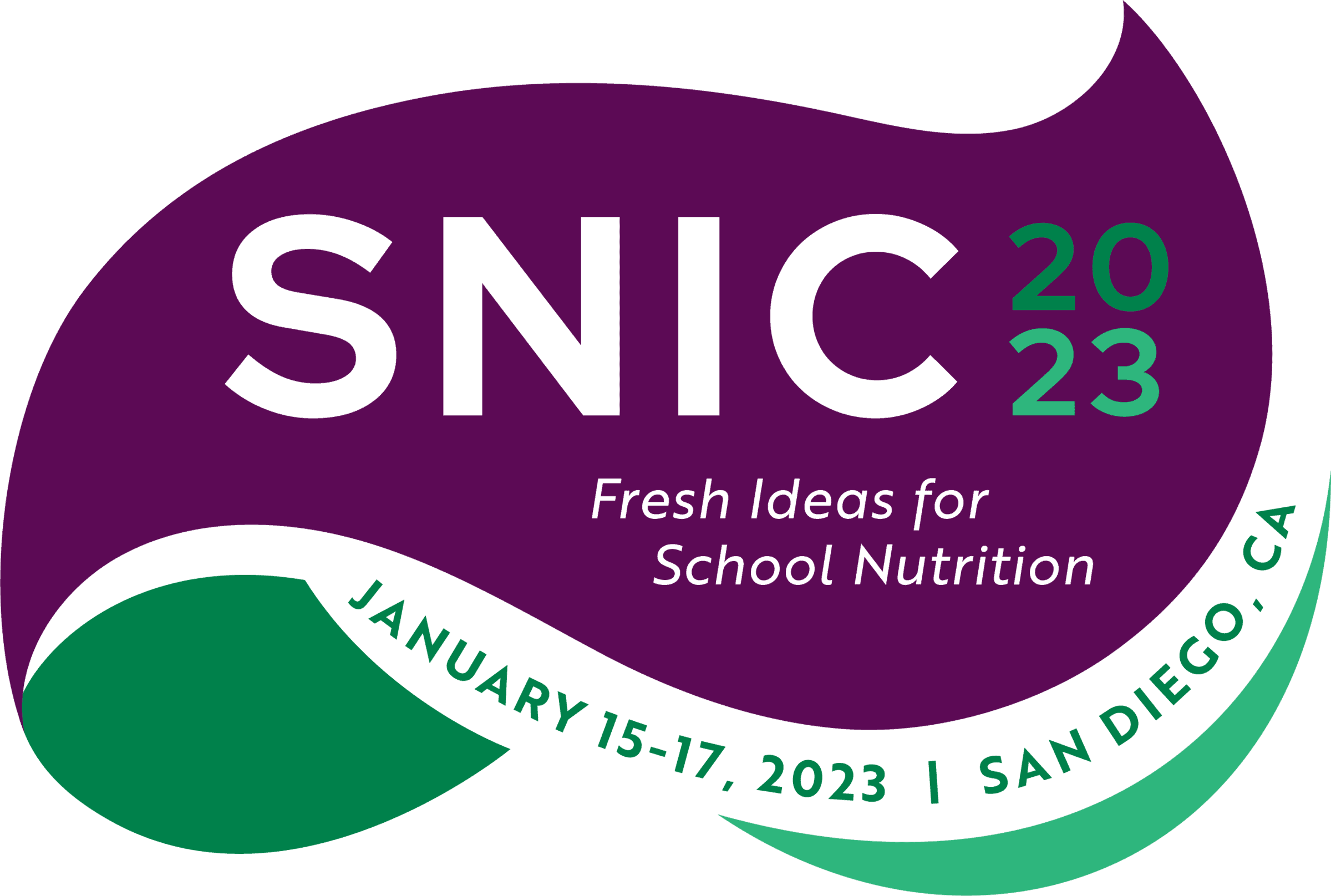 Where better to kick off the new year and discover a fresh take on school nutrition than  sunny San Diego, California? SNIC is returning to a non-hybrid, in-person experience this year, carrying on a long tradition of bringing School Nutrition (SN) operators and Industry together to find new solutions that better serve students healthy, delicious meals.  
Click here for the #SNIC23 Schedule at a Glance.
This year's fresh focus includes:
Fresh ideas and innovation:

From innovative ways to manage supply chain challenges to the latest trends in school nutrition, this is the conference where ideas start to become a reality.

Fresh perspectives on supply chain:

W

ith a year of supply chain woes under our belt, the SN community has come up with some brilliant ideas to get ahead of the chain. Learn how industry and operators are staying ahead of the uncertainties, and share your great ideas, too.

Trailblazing school nutrition chefs

will discuss on-trend menu ideas working withing supply chain constraints. 

Sustainability solutions:

Join us for conversations on minimizing food waste through "upcycling."

Implications of expired free meal federal waivers

. We'll come together to take stock on the current state of school nutrition and participation trends, then discuss solutions to simplify barriers to school nutrition growth.

 

Increasing participation in school meals:

How to increase participation is top of mind for both industry and operators. We'll discuss innovative practices from menu ideas to marketing to increasing a la carte sales.

Supporting Employee Well-Being and Mental Health.

W

e'll face the crux of

employee wellbeing and satisfaction, while acknowledging continued staffing issues, and how to lead your team during challenging times.

 
Program at a Glance
Pre-Conference Workshops:

Join us a day early for a choice of three pre-conference

workshop

s

:

 

An immersive Local Dairy Farm Tour that shows how sustainability and animal wellbeing don't equal compromise when producing student's favorite dairy products

.

 

A tour of San Diego Unified School Nutrition's program

tour

, one of the most innovative programs in the country. 

 

Or stay in the air conditioning and discuss fresh focused hot topics, and proactively seek solutions. 

 

Welcome Reception:

Come clink a drink and nosh on apps while enjoying a relaxed atmosphere to connect and reconnect with a network of #SNIC23 attendees.

 

Keynote Speakers:

Check back soon to find out which electrifying keynotes have been selected this year.

 

Innovation Solution Session:

Industry partners will share their newest products, services or equipment that will boost this school year's student participation.  

Networking Lunch and Tabletop Showcase:

Break bread and catch up,

mingle and network while visiting with industry representatives as they share their newest products.

FAME

Awards

:

The Foodservice Achievement Management Excellence (FAME) Awards ceremony returns to an in-person celebration this year. Supported by Basic American Foods, this award

s

show

dinner

recognizes SNA members who have gone above and beyond.

 

Learning Bursts, Ideas@Work & Education Sessions:

With a focus on fresh ideas and hot topics, the educational Continued Education Unit (CEU) worthy sessions will be a deep dive into the subjects you care about. Check back soon for full details. 

General Sessions:

Current trends and the future of School Nutrition discussed by leading operation and industry experts, with a focus on attendee participation through roundtable discussions and Q&A. Check back soon for full details.
Full schedule with activity descriptions coming soon! 
| Location | Dates |
| --- | --- |
| San Diego, CA | January 15-17, 2023 |
| Orlando, FL | January 14-16, 2024 |
| Phoenix, AZ | January 19-21, 2025 |
| Austin, TX | January 11-13, 2026 |