Read the November/December 2023 Issue of School Nutrition Magazine
The prospect of a cafeteria renovation or redesign can be intimidating, but the opportunity to give your space a much needed refresh is exciting, too! In order to keep your operation running smoothly—and keep up with the evolving tastes of your customers—being open to change and staying informed on what's new in school foodservice is vital.
This issue of School Nutrition explores how you can change your cafeteria, and your program overall, for the better. You'll find tips on how to tackle a cafeteria redesign (regardless of your budget), discover ideas on how to refresh your menu and hear from other school nutrition profressionals about their most desired prodcuts, tools, décor and equipment to inspire your future cafeteria upgrades.
Whether you're always excited about change or just warming up to the idea, the articles in this issue will help you be prepared and inspired to tackle whatever is on your wish list and your to-do list.
Meet Mayonette "Mo" Salter, Assistant Director, Child Nutrition, Elmore County (Ala.) School District.
Join the thousands of school nutrition professionals and supporters that read School Nutrition (SN) magazine—the official publication of the School Nutrition Association. SN magazine is available to all SNA members, but non-members don't have to miss out on informative and inspirational cutting-edge solutions, how-to advice and best-practice models on dozens of topics. The magazine is published six times per year, and subscribers also have access to the robust online SN magazine hub and years worth of magazine articles.
Not a member of SNA? Discover the many additional benefits of joining. Not eligible for or interested in becoming a national member? Subscribe now!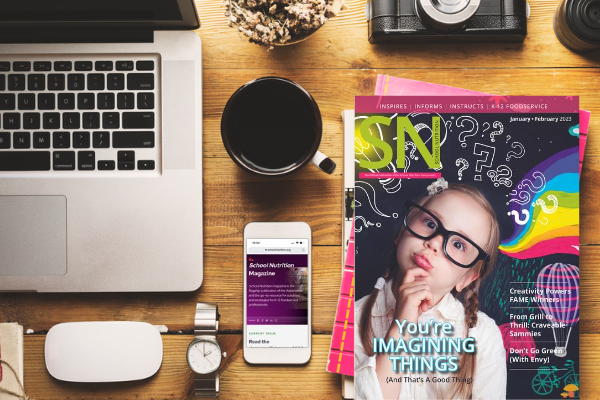 Search or browse articles from the School Nutrition magazine archive.
Gain the Competitive Edge with School Nutrition Magazine
As the premier publication for the school nutrition profession, School Nutrition magazine is SNA members' go-to resource for information, inspiration and innovative ideas on important issues, both in and out of the cafeteria. By advertising, you'll not only promote your products and services to this important market segment via a reputable national magazine, you'll also be part of the movement to provide healthy meals to America's students.