Read the May/June 2023 Issue of School Nutrition Magazine
In today's digital world, most of us spend a lot of time online—and that's especially true of your customers: kids! If you want to market your program effectively, you need to meet your customers where they're at, and that means embracing social media and digital marketing. If that task seems daunting, don't worry! This issue of School Nutrition is all about today's most effective marketing strategies—and with tips on branding, examples of unique marketing moves, a primer on TikTok as a platform to promote your program and advice on dealing with negative comments you'll be able to transform any apprehension about social media marketing into enthusiasm for new engagement opportunities!
Meet Robin Proffit, SNS, Foodservice Director of Clearbrook-Gonvick (Minn.) School District.
Join the thousands of school nutrition professionals and supporters that read School Nutrition (SN) magazine—the official publication of the School Nutrition Association. SN magazine is available to all SNA members, but non-members don't have to miss out on informative and inspirational cutting-edge solutions, how-to advice and best-practice models on dozens of topics. The magazine is published six times per year, and subscribers also have access to the robust online SN magazine hub and years worth of magazine articles.
Not a member of SNA? Discover the many additional benefits of joining. Not eligible for or interested in becoming a national member? Subscribe now!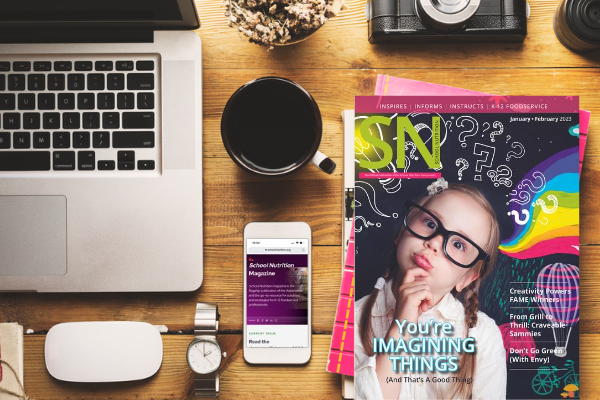 Search or browse articles from the School Nutrition magazine archive.
Gain the Competitive Edge with School Nutrition Magazine
As the premier publication for the school nutrition profession, School Nutrition magazine is SNA members' go-to resource for information, inspiration and innovative ideas on important issues, both in and out of the cafeteria. By advertising, you'll not only promote your products and services to this important market segment via a reputable national magazine, you'll also be part of the movement to provide healthy meals to America's students.