School Nutrition: Embrace The Pivot
Since mid-March, school nutrition teams have handled challenge after challenge with professionalism, creativity and initiative. The October 2020 issue of School Nutrition celebrates these successes and addresses challenges that are still affecting the industry.
Log into your SNA account and scroll down to read this month's articles, view the digital issue or download a PDF of the magazine to print or share. Here's what's covered:
There are a lot of problems to solve right now, but you don't have to go it alone. "Put on Your Out-of-the-Box Thinking Cap" details a number of creative methods for group brainstorming that won't make participants roll their eyes and do heavy sighs.
It's the year of innovation. "First Survive. Then, Thrive" provides prompts and guides to help you get through this challenging school year with your program—and your spirit—intact.
It's more important than ever to go out in search of additional funding opportunities. Skilled school nutrition directors offer up tried-and-true advice in "Grants: Go Get 'Em!" to find, apply for and win grants.
As curbside service continues for a large portion of school districts, teams have transformed the challenges into exciting new opportunities. "Mastering the Meal Kit" profiles three districts doing just that.
School foodservice funding is complicated, especially right now. "Please, Take the Meals" offers up answers to some of the top questions parents might have about where the money is coming from and why they should participate.
The USDA Foods in Schools program is one of the best tools a school nutrition team has. "Stretching Your Budget with USDA Foods" details advice from school chefs about how to best utilize these ingredients.
Pivoting during COVID doesn't just refer to service models. Create a workplace safety model using HACCP principles as outlined in "Thinking HACCP in a COVID-19 World."
The School Nutrition Association continues to celebrate its 75th anniversary with interviews featuring the leaders of yesterday, today and tomorrow. This month, Shirley Watkins Bowden (SNA President 1988-89), Kevin Sauer, PhD, RDN, LD (President-Elect, Academy of Nutrition & Dietetics) and Christine Clarahan, RD, SNS reflect on the history of the profession, as well as future opportunities.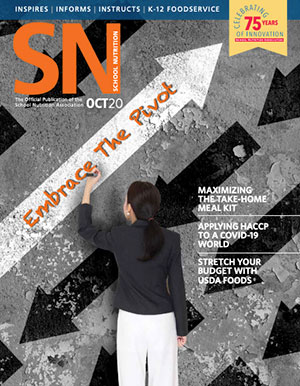 Get Access to School Nutrition
If you're an SNA member, sign in now to read the articles. If you are not a member, join to get access to all of the great content in School Nutrition!
Gain the Competitive Edge with School Nutrition Magazine
As the premier publication for the school nutrition profession, School Nutrition magazine is SNA members' go-to resource for information, inspiration and innovative ideas on important issues, both in and out of the cafeteria. By advertising, you'll not only promote your products and services to this important market segment via a reputable national magazine, you'll also be part of the movement to provide healthy meals to America's students.