School Nutrition: Readers' Choice
This month, School Nutrition is spicing things up a bit: For the November issue, the magazine's editorial staff wanted to give readers a more direct route to influence its content. Earlier this year, we polled our readers via SNA's social media channels to see what topics they wanted to learn more about. Starting with eight broad categories, we asked magazine fans to choose the ones they felt the greatest urgency for a little extra knowledge and guidance. Over 1,000 votes were cast, and we had three clear winners, which lent themselves to further discernment for articles that would provide a fresh and useful spin.
Log into your SNA account and scroll down to read this month's articles, view the digital issue or download a PDF of the magazine to print or share. Here's what's covered:
Thanks to reader feedback, SN is diving into three very relevant and informative topics. First, angel funds have become one answer to the unpaid meal debt crisis currently plaguing school nutrition departments. But just how helpful and angelic are they really? Second, do you need some team-building activity inspiration for your next inservice? Check out these fun team-building exercises guaranteed to help create a more cohesive and efficient team. And, we are all likely to be familiar with the "Big 8" allergens, what happens when a student has an allergy that falls outside of that spectrum?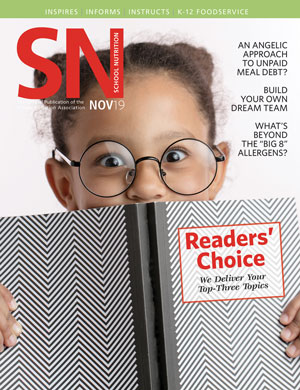 Get Access to School Nutrition
If you're an SNA member, sign in now to read the articles. If you are not a member, join to get access to all of the great content in School Nutrition!
Gain the Competitive Edge with School Nutrition Magazine
As the premier publication for the school nutrition profession, School Nutrition magazine is SNA members' go-to resource for information, inspiration and innovative ideas on important issues, both in and out of the cafeteria. By advertising, you'll not only promote your products and services to this important market segment via a reputable national magazine, you'll also be part of the movement to provide healthy meals to America's students.