School Nutrition: Chefs in Schools
The April edition of School Nutrition magazine proves that there's no such things as "too many chefs in the kitchen." From an interview with Celebrity Chef Jet Tila to an article on the value of adding trained chefs to your operation to a set of profiles on up-and-coming chefs you should get to know, this magazine is more than an hors d'oeuvre on the subject—it's a full-blown entrée. Then, flip to the second course for a preview of NSLW/NSBW 2019-20!
Log into your SNA account and scroll down to read this month's articles, view the digital issue or download a PDF of the magazine to print or share. Here's what's covered:
Adding a Dash of Fame SN sits down with Celebrity Chef Jet Tila in an exclusive interview.
Assets in White Coats Professional, credentialed chefs are an asset to your school district—read why here.
Someone's in the Kitchen Get ready to "meet" these chefs on the rise in their districts—and learn from their substantive contributions.
NSLW/NSBW 2019-20 Preview This is your first look at the totally groovy, out-of-this-world themes for National School Lunch Week 2019 and National School Breakfast Week 2020.
SN Digital Exclusive:
Extra! Extra! Read more about it! School Nutrition is expanding its content through its digital edition. Two supplemental articles about chefs in schools will be included this month. Be sure to check out the online edition for these can't miss articles.
Have questions about hiring a school chef? Find out more here!
Learn more about the unique perspectives of K-12 chef-directors.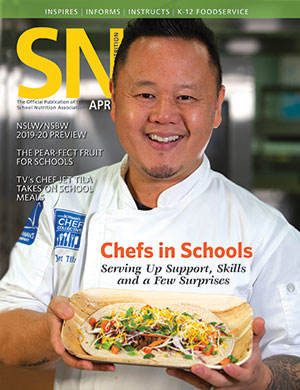 Get Access to School Nutrition
If you're an SNA member, sign in now to read the articles. If you are not a member, join to get access to all of the great content in School Nutrition!
Gain the Competitive Edge with School Nutrition Magazine
As the premier publication for the school nutrition profession, School Nutrition magazine is SNA members' go-to resource for information, inspiration and innovative ideas on important issues, both in and out of the cafeteria. By advertising, you'll not only promote your products and services to this important market segment via a reputable national magazine, you'll also be part of the movement to provide healthy meals to America's students.