Part of the PBIC Operations & Equipment Guide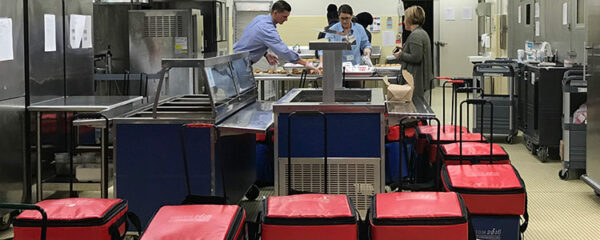 The two most common delivery and service options for breakfast after the bell are "grab-n-go" and direct delivery.
Grab-n-Go: Mobile carts are strategically placed in high-traffic areas (entrances, common areas, bus drop-off) where students can grab breakfast and bring it to the classroom.
Direct Delivery: Hot and/or cold insulated or other containers transport food to classrooms where students.

Direct delivery is very common at the elementary school level and often used in middle schools, but is less common at the high school level where grab-n-go is often employed. Choosing equipment for direct delivery depends on factors like size and durability, and whether you are serving hot versus cold menu items, or both. Many districts use color-coded bags to distinguish hot from cold foods. Additional equipment choice considerations include:
Inserts/dividers for ease of transport
Hard vs. soft sided coolers
Wheeled coolers or coolers with handles
Ergonomic handle heights on transport carts
Who will be transporting food (students vs. staff)
Cost
Durability/frequency of replacement
Ease of cleaning
Weight
Added features (ex. odor-free, bacteria resistant, etc.)
Purchasing commercial foodservice equipment from a foodservice equipment dealer is preferable to products from big box retailers.

Mobile "grab-n-go" carts are popular, particularly in middle and high schools. Placing carts in high-traffic areas can help increase participation. One BIC district saw significant increases in participation after crowd-control stanchions were used to "funnel" students entering the school past the breakfast carts.
Major considerations when choosing a mobile cart include:
Size and weight of cart--heavy carts can be a safety concern;
Doorways and elevators—measure dimensions and do not exceed weight restrictions (remember, the carts will be loaded!);
Graphics/signs to attract students and help market school breakfast;
The ability to hold hot and/or cold foods;
Display shelves

Equipment considerations both large and small will depend on a myriad of factors from cost to menu to your ADP:
Using "flex" carts that can hold both hot and cold foods simultaneously;
Backup carts to hold foods when served over an extended period of time (ex. "Second Chance" breakfast served between periods);
Bumpers, heavy-duty castors, and other equipment to make transport easier and safer;
Rain gear for staff if carts need to be transported between buildings.
Don't forget to look around and repurpose things you may already have: utility carts, racks, mobile shelving, coolers, and folding tables.
Kiosks/Bars/Carts/Dispensers
Ali Group has 76 brands, designs, manufactures, markets and services, and a broad line of commercial and institutional foodservice equipment.
Alto-Shaam offers an expanded, award-winning product portfolio that includes Vector Multi-Cook Ovens, Combitherm ovens, cook-and-hold ovens, heated holding solutions and more.
Cambro Manufacturing provides reliable supplies and equipment to foodservice operators worldwide.
Carter-Hoffmann manufactures heated holding cabinets, food transport carts and microgreen and herb growing cabinets to enhance your menu.
Cres cor manufactures a complete line of mobile foodservice equipment, including heated cabinets, transport cabinets, Retherm-N-Hold ovens, speed racks and more.
Form Plastics manufactures progressive solutions for school nutrition programs including recyclable hot/cold trays, eco-friendly trays, lidding film, sealing equipment and accessories.
Food Warming Equipment (FWE)is the equipment source for hot lunch & breakfast programs with retherm ovens, heated-holding cabinets, transport carts, heated serving wells, and air-screen refrigeration.
G.A. Systems specializes in mobile serving counters. and the first to develop grab 'n' go speed lines and hot-cold dual operation cabinets.
General Parts is a kitchen equipment repair company, offering installation, routine maintenance, manufacturer-trained technicians, OEM parts distribution and chemical supplies.
Hubert Company is a worldwide leader of excellence in food merchandising. With over 70 years of experience, we partner with you to develop solutions to your greatest challenges.
Elkay Interior Systems (EIS) is an interior design and manufacturing company, offering an array of branding, design, build, and installation services for public and private schools nationwide.
Lakeside Manufacturing helps schools address challenges through mobile equipment solutions.
LTI, Inc. is one of the country's leading manufacturers of custom foodservice equipment and décor. Family owned and operated, it's well-known for high-quality and innovative design.
Metro (InterMetro Industries) is a leader of innovative wire and polymer shelving systems, holding, transport and productivity.
National Restaurant Supply is a provider of kitchen equipment, small wares, cafeteria serving lines and trays.
New Age Industrial is an aluminum manufacturer in the transportation and storage segment for the foodservice industry.
Norris Products Corp. is a provider of insulated bags and hand carts that provide smart solutions for school nutrition programs.
PASCO Brokerage is a woman-owned business, is foodservice equipment and small wares supplier offering co-op pricing to K-12 entities.
San Jamar - Carlisle Foodservice Products are now under the umbrella name of CFS Brands—a leading manufacturer for the foodservice, healthcare and janitorial markets.
SECOSelect makes products that thrive in an active kitchen: serving lines, heated cabinets, aluminum racks and more. We have customization options to fit any look or function.
Sterno Products are perfect for delivery, catering and other applications, these uniquely designed, premium insulated bags keep foods at desired temperatures.
Thermodyne Foodservice Products is a worldwide supplier of slow cook-and-hold ovens. The Thermodyne method of conduction heating is perfect for slow cooking, holding and rethermalizing.
TriMark Strategic specializes in foodservice equipment, supply and design solutions. We are a single source for comprehensive, seamless foodservice equipment solutions.
Winston Foodservice will take your kitchen to the next level with new-and-improved CVap cooking and holding equipment.
Designating storage space for your food delivery equipment is also important. The ability to securely store your equipment may dictate the food delivery system you use and the size of containers or carts you purchase. You can get double duty from your food delivery equipment if you offer other child nutrition programs such as suppers, snacks, or summer food service.
The least expensive food delivery option is to utilize your existing cafeteria line. Students go to the cafeteria to pick-up their breakfast and take it to the classroom. The disadvantage of this system is that it may not promote access and participation in the breakfast program as effectively as meals served at or near the classroom. Routing all students through the cafeteria after the bell can help alleviate this concern. It may take more time out of the instructional day to move students to the cafeteria after the bell.
Today is #GivingTuesday! Both the School Nutrition Association (SNA) and the School Nutrition Foundation (SNF) are inviting you to participate…
---
Contact: Diane Pratt-Heavner, 703-576-7526, media@schoolnutrition.org ARLINGTON, VA – The School Nutrition Foundation (SNF), the charitable arm of the non-profit School Nutrition Association…
---
As school nutrition professionals continue to navigate the supply chain disruptions, School Nutrition Foundation and No Kid Hungry are looking to further understand the challenges experienced by a key pillar of the school nutrition network—Distributors. We are conducting Listening Sessions to gauge distributors' thoughts around the evolving school nutrition segment.
---