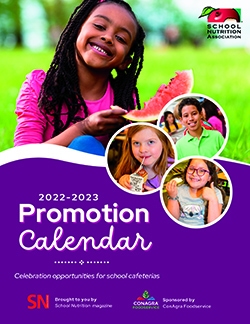 Does the thought of celebrating Hobbit Day bring a smile to your face? Do you have recipes at the ready for National Pasta Month? Would your students love to celebrate the birthdays of Minnie Mouse or Alexander Hamilton? Now is your chance to plan to commemorate these unique celebrations (and many, many more!) with SNA's 2022-23 Promotion Calendar!
This helpful and free SNA member benefit is packed with fun holidays and events to provide inspiration for your operation. Brought to you by School Nutrition magazine, the calendar includes month-long, week-long/multi-day and single-day events, along with links to learn more about the events or historical figures or to find recipes for food-related holidays.
Generate an atmosphere of excitement in the cafeteria and cultivate a little fun! The 2022-23 Promotion Calendar is now available to download for free for all SNA members.
Thank you to Conagra Foodservice for their support of the 2022-23 Promotion Calendar.