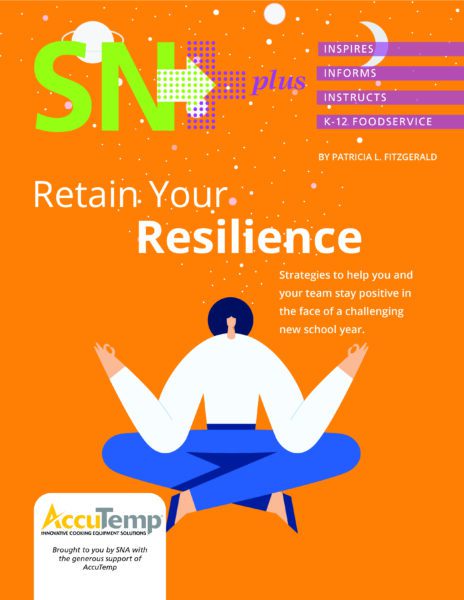 As schools and their cafeterias begin to reopen this month, social media would seem to indicate that many school nutrition professionals are looking at the year ahead with a mixture of enthusiasm and trepidation. The expected ebullience of seeing students again is also tinged with worry about managing another year of significant challenges. How will you hang on to all you love about your school nutrition career when the going gets tough?
"Retain Your Resilience," a new SN Plus article, features self-care strategies designed to help you—and your team members—thrive in the year ahead. Here's what's inside:
New approaches to longstanding wellness advice (such as getting good sleep and making healthy food choices)
The value of being intentional about nourishing downtime pursuits
Tips for getting through a bad day at work
Suggestions on how to lift the entire team, as a supervisor or as a colleague
And more!
Individual SN Plus articles are published periodically as extras to School Nutrition magazine's print and digital editions. You can read "Retain Your Resilience" on your device or print out a hard copy. Share it with your team members! If you share it outside of the school nutrition community, please credit School Nutrition/School Nutrition Association.
School Nutrition thanks AccuTemp for its generous support in making this article available.