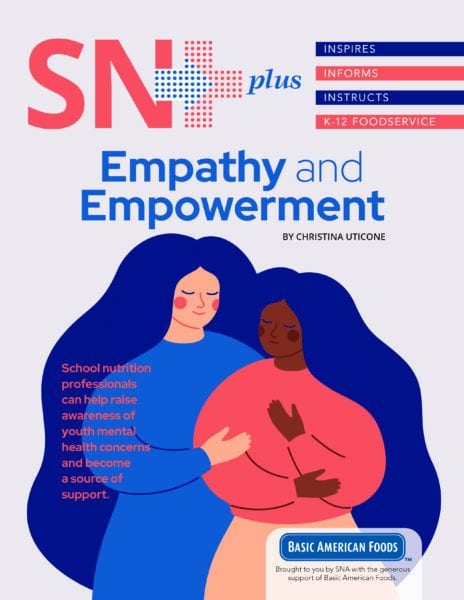 Although Mental Health Awareness Month is coming to a close, it's an initiative that has year-round resonance, particularly in schools.
"Empathy and Empowerment," a new SN Plus article, is a call to action to school nutrition professionals to take a more active role in helping to connect troubled youth with the support they need.
The United States is experiencing an escalating mental health crisis, particularly among our youth. The statistics are sobering: One in six young adults, teens and children experience a diagnosed mental health disorder. Suicide rates are on the rise among youth—and this is a troubling trend that took root before COVID-19.
Cafeteria staff are uniquely positioned to help, as virtually all students pass through their facility at some point during the day. Read how one school nutrition director arranged to provide her entire staff with training and authority to observe and intercept.
Individual SN Plus articles are published periodically as extras to School Nutrition magazine's print and digital editions. You can read "Empathy and Empowerment" on your device or print out a hard copy. Share it with your team members, as well as other stakeholders in the school and district. If you share it outside of the school nutrition community, please credit School Nutrition/School Nutrition Association.
This article will be accessible in the Resource Library on SchoolNutrition.org.
School Nutrition thanks Basic American Foods for its generous support in making this article available.