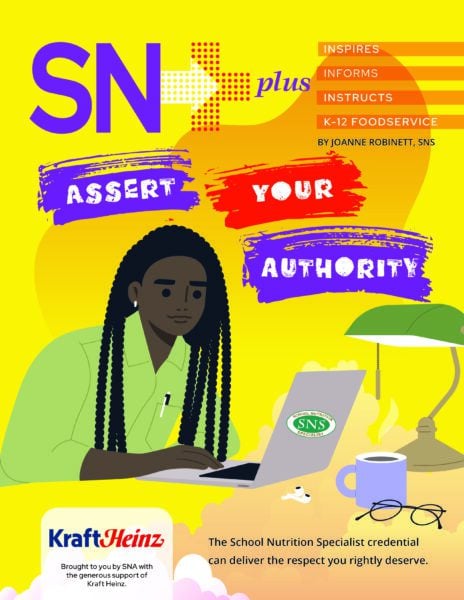 The School Nutrition Specialist (SNS) credential is a mark of excellence and achievement that reflects what it takes to  manage school nutrition programs in today's challenging climate. It signals to others that this is a bona fide profession with standards and rules that require training and expertise in many areas. For an individual, it conveys authority and know-how. The SNS is not something you can simply declare, no matter how many years of accomplishment you have under your belt. The SNS is something you earn.
"Assert Your Authority," a new SN Plus article, describes the value of earning the SNS credential and investing in the preparation required to successfully pass the exam. Personal pride, self-confidence, potential career advancement, increased respect from peers and (for industry partners) credibility from customers are just a few of the benefits cited by those who have achieved this professional designation and continue to maintain it. You'll also find advice for exam study, as well as a list of resources that will prove helpful.
Individual SN Plus articles are published periodically as extras to School Nutrition magazine's print and digital editions. A PDF of this SN Plus article is linked in this e-blast. You can read "Assert Your Authority" on your device or print out a hard copy. Share it with your team members. We simply ask that if you share it outside of the school nutrition community, credit should be provided to School Nutrition/School Nutrition Association.
This article will be accessible in the Resource Library on SchoolNutrition.org.
School Nutrition thanks Kraft Heinz for its generous support in making this article available.