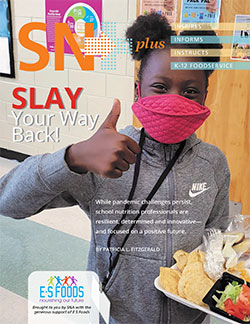 Last spring, when all signs pointed to SY2021-22 as the anticipated start of a return to "normalcy," four school nutrition directors from Georgia developed a blueprint for helping each other—and their peers around the country—to recover from the financial havoc wreaked by COVID-19 on school meal programs. The result, "SLAY Your Way Back from COVID-19," was a very highly rated education session at SNA's 2021 Virtual Annual National Conference (ANC).
While new challenges in the form of labor shortages, supply chain disruptions and a new surge of COVID cases may have deterred some of the momentum toward such plans, it hasn't shaken the optimism and resolve of the self-identified Quartet Slayers or their peers.
Entitled "SLAY Your Way Back," this new SN Plus article presents key strategies and suggestions from their ANC session, along with updated reflections since the start of the chaotic new school year, ultimately demonstrating the deep wells of resilience and determination that are signatures of this profession.
Individual  SN Plus articles are published periodically as extras to School Nutrition magazine's print and digital editions. Feel free to share with team members. We simply ask that if you share it outside of the school nutrition community, credit should be provided to School Nutrition/School Nutrition Association.
School Nutrition thanks ES Foods for its generous support in making this article available.