Whether they are following the example of classic Japanese Bento boxes, offering a cafeteria spin on the popular American Lunchables brand or giving a nod to today's charcuterie trend, packaged meal components for personal assembly are a menu item catching on with school nutrition operators—and catching fire with their K-12 customers.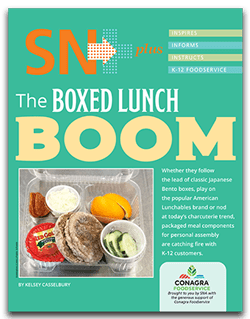 Examples of these "Lunch Buddies," "Bistro Boxes" and "Power Packs" have been surging on social media this fall, although use of the concept was building steam pre-COVID. This new SN Plus article, " The Boxed Lunch Boom," explores the menu trend, offering mix-and-match component suggestions to inspire innovation and differentiation, appealing to students in all grade levels and leveraging the popularity of similar items found in retail and quick-serve restaurants.
Individual SN Plus articles are published periodically as extras to School Nutrition magazine's print and digital editions. Click hereto read "The Boxed Lunch Boom" on your device or print out a hard copy. Share it with your team members. We simply ask that if you share it outside of the school nutrition community, credit should be provided to School Nutrition/School Nutrition Association. Visit the SN Plus page to access other recent articles.
School Nutrition thanks to Conagra Foodservice for its generous support in making this article available.