Marketing Strategies to Engage Kids and Parents
We don't have to tell you that kids today spend a lot of time online—you already know that! So it only makes sense that if you want to reach kids (and their parents), your marketing efforts should be focused on the same digital world where your customers spend so many hours a day.
Don't worry if the thought of marketing your program via your website or social media platforms seems daunting. We're looking at the concepts, and even a few controversies, behind these marketing methods so you can feel inspired and empowered instead.
Log into your SNA account and take a look at our coverage found in the May-June 2023 edition of School Nutrition. Here's what you'll find:
Identify Your Next Marketing Move: It takes a lot of effort to attract (and retain) your program's customers, but there are smart approaches you may not have considered, such as these helpful responses to common complaints or even new designs for your menu.
What's Your Why?: When you're able to answer why your program does what it does, suddenly your approach to creating a consistent, recognizable brand falls into place much more easily. This means customers feel more connected, and will likely be more loyal, too.
Fear Not the Trolls: The negativity on social media can be intimidating, but you don't want to let that be the reason your program doesn't have an active presence. Instead, reframe your approach and find ways you can reach (and teach) your audience.
Let's TOK About School Nutrition: The increasingly popular social media app TikTok offers you surprising new ways to market what your program offers and even find inspiration. Learn how you can master the platform and use it to its full potential.
NSLW-NSBW SY2023-24 Sneak Peek: Two great themes are in store for next year's National School Lunch Week and National School Breakfast Week! Here are some great ideas for how you can maximize the "Level Up" video game theme to celebrate school lunch and a "Surf's Up" beach theme to celebrate school breakfast.
Food Focus: Fresh Takes on Favorite Bakes: When it comes to versatility and convenience, a good bake is hard to beat, whether you're serving up casserole, pie, or any of their many cultural variations.
ANC Preview: Learn what you can expect from our upcoming #ANC23 in Denver, where school professionals will gather to "Reach Higher." We have details on the keynote speakers, workshops, and the exhibit hall.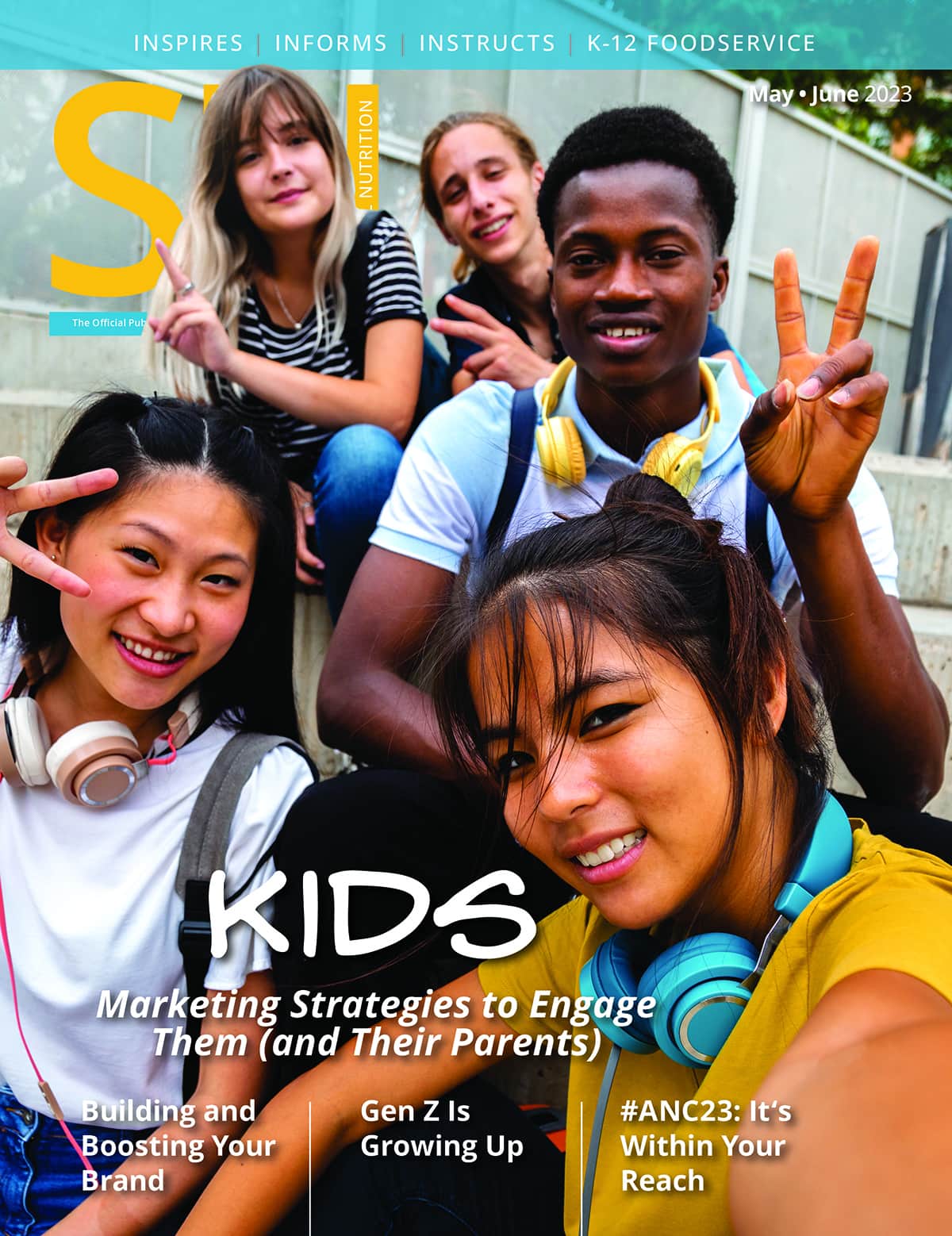 Get Access to School Nutrition
If you're an SNA member, sign in now to read the articles. If you are not a member, join to get access to all of the great content in School Nutrition!
Gain the Competitive Edge with School Nutrition Magazine
As the premier publication for the school nutrition profession, School Nutrition magazine is SNA members' go-to resource for information, inspiration and innovative ideas on important issues, both in and out of the cafeteria. By advertising, you'll not only promote your products and services to this important market segment via a reputable national magazine, you'll also be part of the movement to provide healthy meals to America's students.