Our Second Annual Food Issue
If only food could be as simple as cook, eat, repeat. But as we all know, there's so much more to consider when it comes to food: Does it meet nutritional standards? Is it appealing to students? Is it practical? Is it exciting?
In our Second Annual Food Issue, we are celebrating all the hard work that goes into serving students every day. We look at the ways that expert chefs develop their menus, or how you can be more responsible in the ways you reduce waste or keep kids with allergies safe.
You take pride in the food you serve, and our hope is that you'll be inspired by these fresh approaches to the multi-pronged challenge of serving kids nutritious meals they'll love.
Log into your SNA account and take a look at our coverage found in the March-April 2023 edition of School Nutrition. Here's what you'll find:
From Mind to Menu: Chefs have to consider so many factors when they're developing a menu! Here's the expert advice you need for overcoming challenges and offering options that are nutritious and exciting for students.
Are LTOs a GO in Your Cafeteria?: Offering menu options for only a limited time creates excitement among students and takes away some of the stress on your team.
Scrumptious Scraps?: Looking for a way to reduce waste in your cafeteria? Learn how the Upcycled Food movement applies to schools, helping you get the most use out of everything you prepare and serve.
Plan, Don't Ban: Despite past approaches, experts now say banning common allergens creates a false sense of security and even puts unnecessary constraints on school cafeterias. Instead, it's important to have a safety plan in place.
Food Focus: Chicken Entrees Come Home to Roost: USDA Foods chicken offers a source of lean protein that kids love, and there are all kinds of ways for you to prepare it.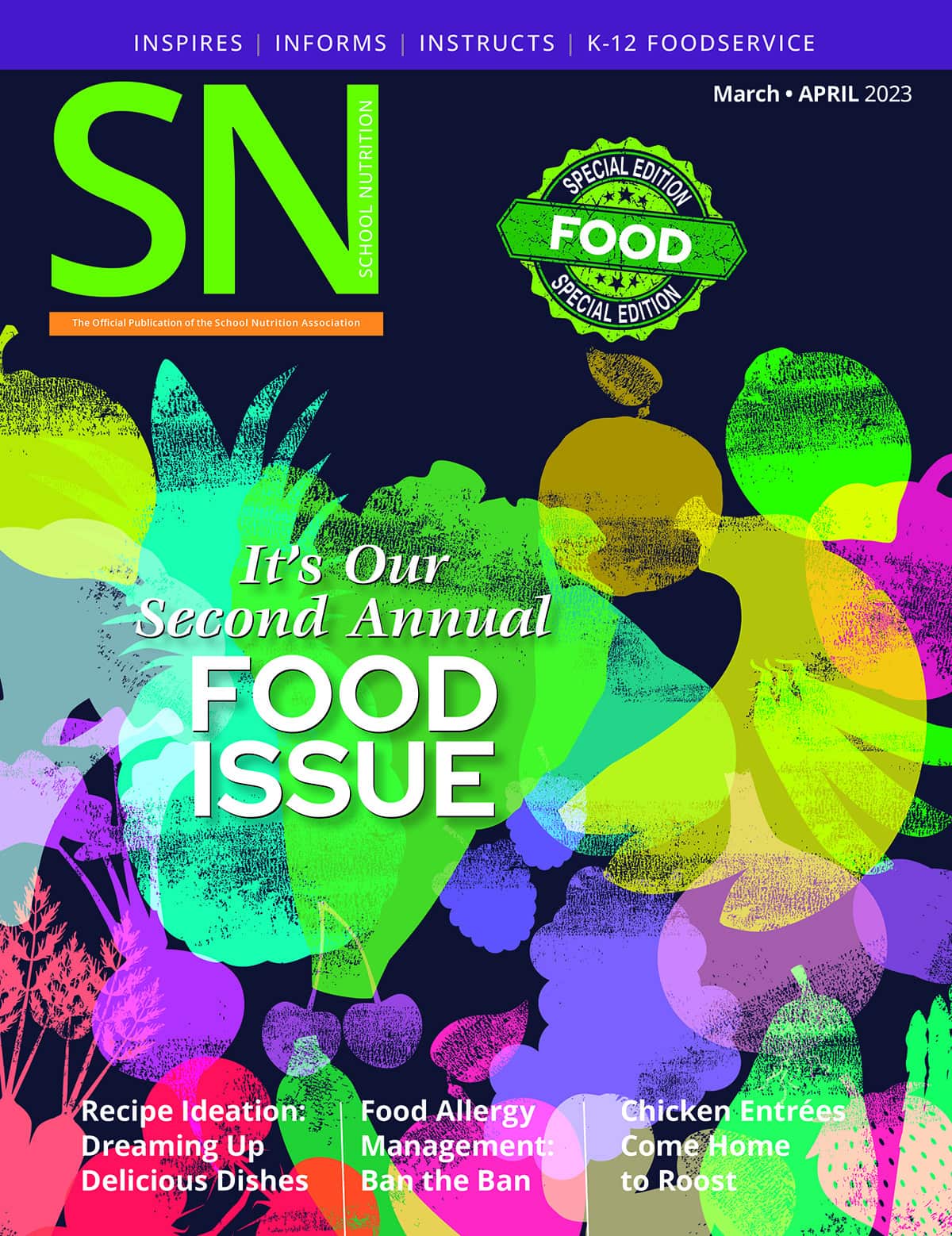 Get Access to School Nutrition
If you're an SNA member, sign in now to read the articles. If you are not a member, join to get access to all of the great content in School Nutrition!
Gain the Competitive Edge with School Nutrition Magazine
As the premier publication for the school nutrition profession, School Nutrition magazine is SNA members' go-to resource for information, inspiration and innovative ideas on important issues, both in and out of the cafeteria. By advertising, you'll not only promote your products and services to this important market segment via a reputable national magazine, you'll also be part of the movement to provide healthy meals to America's students.