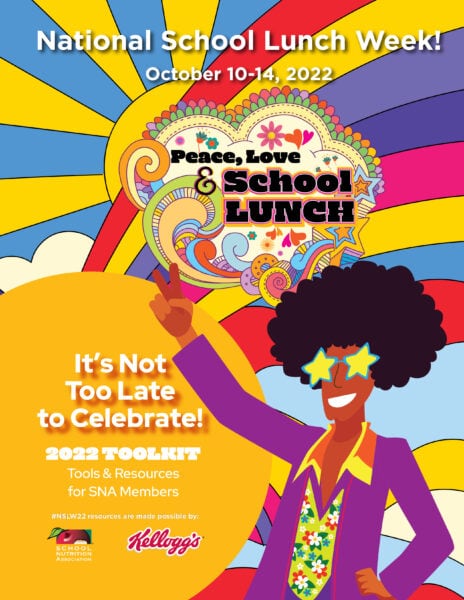 National School Lunch Week (October 10-14, 2022) is right around the corner! Are you feeling groovy about your plans to celebrate? This annual campaign is a perfect occasion to help maintain the enthusiasm you and your community felt at the beginning of the back-to-school season—and this year's official campaign theme, "Peace, Love and School Lunch" is a timely reminder of the importance of staying mellow, despite the challenges of a new school year. You are doing your best to meet the goals of your program while serving up smiles and kindness to kids and coworkers alike.
Whether you haven't had a spare minute to think about NSLW or you only need one or two more ideas or elements to supplement the celebration plans you have already put into place, turn to SNA for the tools that will help you create a hip and happening event. The #NSLW22 campaign website boasts a variety of resources, including the brand-new "It's Not Too Late to Celebrate! 2022 Toolkit," exclusively available for SNA members. It features:
a final checklist to help you manage logistics
easy ideas to engage students
an "ultimate playlist" of iconic songs from the era
suggestions for decorations and costumes
social media guidance and
tips for arranging legislator visits and media events.
Also be sure to download and print SNA's popular NSLW coloring and activity sheets, available to all school nutrition professionals. Five detailed scenes will be fun for coloring enthusiasts of all ages, and activities like a word search, spot the differences and counting and matching games are also easy ways to engage students in this year's event.
You'll also find social media graphics, customizable templates for a press release and official proclamation, NSLW-themed Zoom backgrounds and downloadable logos and artwork. It's not too late to order themed merchandise from the SNA Shop, but don't delay! Time is running out to ensure orders arrive on time.
Finally, we want to hear what you have planned! Submit a brief description of the activities you're putting in motion by October 7 and you can be eligible to win a SNA Shop gift card.
No one is better at serving up the creative, craveable school meal menu items that kids demand while offering the nutritional profile that parents expect. And no one does so with better spirit and fun than you and your team. #NSLW22 will showcase the best of your school meals program as a source that satisfies both body and soul.
NSLW resources supported by