Fitness & Exercise Tips
Want to get moving, but not sure where to begin? Check out some of these great fitness ideas from all around the web. Whether you start walking more, increase activity with your family, or even just take a 10-minute workday break to stretch, little changes can make a big difference and give you more energy!
Meditation & Mindfulness
SNA is excited to partner with Lee Papa to offer meditation and mindfulness bonus activities for the Strive to Thrive STEPS challenges.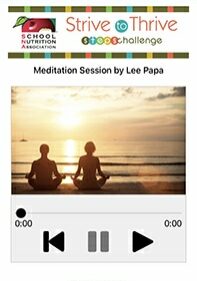 Meditate for Bonus STEPS
Try any of the in-app meditation sessions for your daily mindfulness practice. (Be sure to upgrade to the latest Strive toThrive app version!) Put on your headset, find a quiet location that suits you best and use any or all of the meditation modules in the Challenge app to go through the 7-minute meditation sessions. During any active Challenge period, you will automatically receive 500 bonus steps for each meditation session you complete (limit of one bonus grant per session a day). Visit the Strive to Thrive page for more information.
Healthy Recipe Ideas
Need ideas for healthy, simple meals that are delicious too? We've rounded up some of the best healthy recipes from around the web to give you inspiration to start eating better today! You can also check out some great tasting healthy recipes from our sponsor Jennie-O here!
Source: The Whole Grains Council