A True, Allergen-Free Dairy Alternative
Worry-Free, Allergen-Free, Delicious & Nutritious. Ripple Milk is the only Big 8 Allergen-Free USDA Milk Substitute with the same 8g of protein per 8oz as dairy milk, + 50% more calcium & 40% less sugar.
Please join Ripple as we continue our mission of dairy-free done right!
Additional Resources
Ripple 12pk On The Go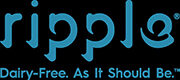 Category
Resource Type
Resource Meeting