After taking a chance in school nutrition 15 years ago, Wamego (Kan.) Unified School District 320 Food Service Director Laura Fails has discovered the meaning of leadership, how to navigate challenges—in and out of the cafeteria—and how to tap into one's inner strength and harness the power of relationships to grow while managing life's many surprises.
Finding a Match
Until my kids were born, my post-college years were spent working in marketing and office administration.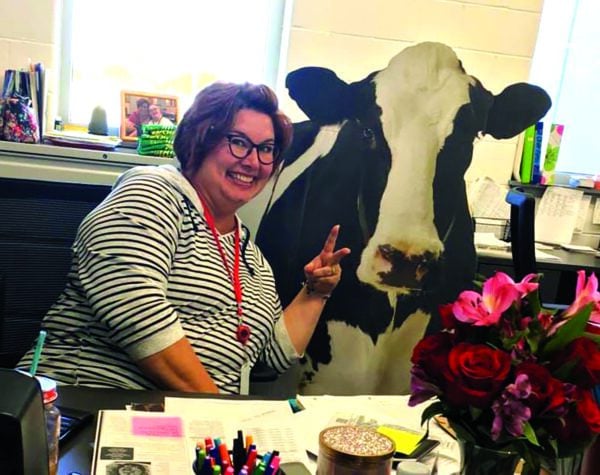 Once my youngest started kindergarten, I wanted to go back to work. A friend who had worked in the school kitchen told me the department was hiring and urged me to apply. I loved the hours—plus I had fond memories of time with my grandma, a school cook for 26 years.
I was hired in 2005 as an office assistant and lunch service team member, eventually becoming kitchen manager. When the director told me she was leaving, she encouraged me to go for the position, despite my inexperience. The district took a chance on me, and I've been director since 2008. My grandma and I got to exchange many funny stories about our shared experiences!
Learning to Lead
I never set out to be a leader, but my parents and grandparents modeled servant leadership through their involvement in the community, with civic groups, at church and in professional organizations. It gave me a front row seat to understanding what it means to be a part of something bigger than oneself.
When I started, I had zero background in school nutrition, so I had to educate myself as quickly as possible. Classes from the Kansas State Department of Education and networking through the School Nutrition Association of Kansas (SNA-KS) were crucial and laid the foundation for my strong belief in the value of training. As my knowledge and confidence grew, so did my desire to be more involved. I never expected to be 2016-17 SNA-KS president, but it was a natural progression. I'm so thankful for the experience—and still amazed to have earned an SNA President's Award of Excellence for my efforts.
Leadership means many different things to me. It's having a vision and being willing to put in the hard work to make that vision a reality. It's seeing the talent and skills of people around you and helping them do their best work. It's being able to have hard conversations. It's supporting your team and giving them the tools they need to be successful. It's continually learning, growing and asking questions. It's listening. It's building relationships. It's being a cheerleader, a counselor, a taskmaster and a friend all at the same time.
Leadership is also a balancing act that requires many hats. Sometimes those hats don't fit very well or you don't have the right one on hand for a particular challenge. I've learned when to push, when to pull back and when to take a break. I've also realized the value of self-care—taking care of myself first, so I can take care of everyone else.
Navigating Challenges
One of the greatest challenges for leaders is keeping the team focused and moving forward. Personal issues follow folks to work, personality conflicts develop, different work ethics are put under a microscope. It's vital that I keep our mission front and center. The most important thing we do is feed kids; all the rest can be managed with good communication and reflection.
I'm very proud of our response to the pandemic over the last year. The day after schools shut down, we were in the park, distributing meals to 175 children. Within weeks we were serving over 900 each day, continuing to add sites, volunteers and menu options.
"Leadership is being a cheerleader, a counselor, a taskmaster and a friend all at the same time."
Still, it's been a challenge to keep up morale. Pandemic fatigue is real. My own positive attitude has taken numerous blows; I lost my father to the virus and was sidelined myself, recovering from a knee replacement. Thankfully, my team was prepared and willing to help as I healed and grieved.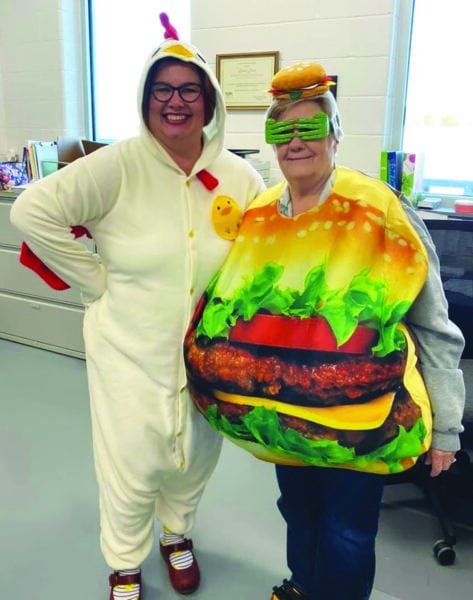 It's been a very hard year, but also fulfilling on many levels. COVID certainly put a spotlight on school meals. For the first time, our entire community got to see our program in action, especially through our Facebook outreach. People saw and valued our program and the work we do.
Outside of the cafeteria, the greatest challenge I've encountered was when my daughter was diagnosed with a rare cancer at age 2. Her treatment was aggressive, complicated and difficult to watch. It was devastating to feel so helpless. But she did recover—and is now a junior in college, on her way to medical school. Through the experience, I learned it was OK to ask for help, realizing I couldn't do it all on my own. We needed help with meals, cleaning, money and shoulders to cry on. I also learned how to be a fierce advocate for others, paying attention to every detail and being fearless in asking questions.
Moving Forward
I'm extremely happy where I am. Our school district is like family, and I know that's difficult to find in a workplace. I value relationships with our administrators, teachers and staff. I love the idea of more national service, but my team is so small that being out of the office that much could be challenging. I do plan to continue my involvement with SNA-KS however I'm needed. My next work goals for my program revolve around participation growth, developing new recipes and finally reconnecting with students face to face!
Shannon Guerin is a freelance writer based in Denver, N.C.
30-Second Bio
Hometown. Stillwater, Okla. (Childhood); Wamego, Kan. (Current)
Education. Bachelor of Arts, History with Minors in German and Geography, Oklahoma State University
Title. Food Service Director, Wamego USD 320, Kan.
Program at a Glance. ~1,500 students, 24%-36% eligible for free/reduced-price meals; four school sites (two elementary, one middle school and one high school) and one district production kitchen; 23 employees, including a dedicated food truck driver/custodian
SNA Leadership Highlights. SNA-Kansas President (2016-17); School Nutrition Foundation Ambassador (2019-21); SNA State Affiliation Agreement Task Force (2016-17)
Family. Husband Vernon, children Samuel and Josie, miniature dachshund Ozzie and calico cat Mrs. Hughes