As the first day of SY2020-21 at Vicksburg-Warren (Miss.) School District comes to a close, Child Nutrition Director Laura Bounds reflects on being "born" into school nutrition, facing unprecedented back-to-school challenges and learning how to lead by example—even when you don't know you're doing it.
A Legacy Leader
How did I find my way to school nutrition? Well, I was born into it." My mom—Becke Bounds, a longtime school nutrition leader, former Mississippi SNA (MSNA) president and national Association Board member—had a huge influence. But even though I'm now a school nutrition director, I first felt the need to be a stubborn redhead and try not to follow in her footsteps.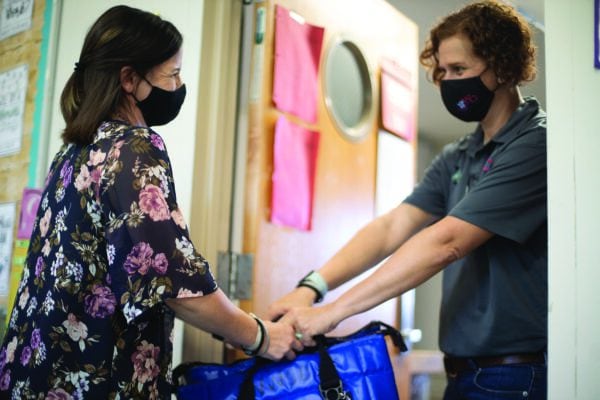 I worked in restaurants from ages 18 to 32. While at college, I interned briefly at my mother's school district, but always insisted, "I'll never do what my mom does." But in 2010, exhausted after working 18- to 19-hour days and missing my family, I picked up the phone and called Mama, asking for advice about getting into school nutrition. I could hear her grinning through the phone.
I moved home and started applying for area director positions. In January 2011, I was hired first by the Hancock County (Miss.) School District, and then in 2014, I became director for Vicksburg-Warren School District. I could not be happier doing what I do now. Sometimes there are still long, hard days like at a restaurant. But now I come home, knowing that my little girl and her best friends got fed, and so did all of the babies across the district. When I know we've put down a solid foundation for an excellent education, that's when I feel like I've done my job.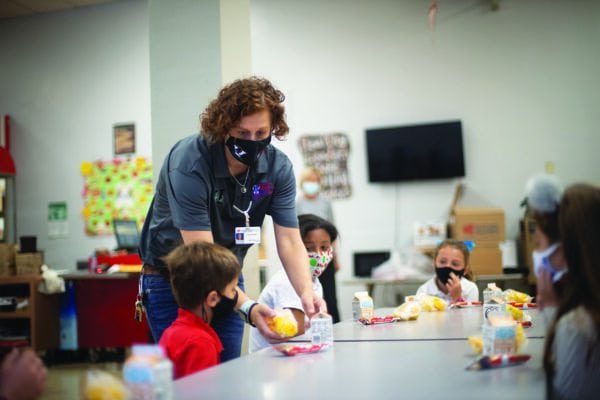 My mom was an invaluable mentor; she's my hero. My great-grandmother was another big influence. And my grandmother ran the dormitory and cafeteria at Forrest County Agricultural High School in Brooklyn, Miss. She showed me that I am part of a long line of child nutrition leaders, teaching me to cook, to bake fresh bread, to fish and to be an all-around good woman—to be strong.
Leading as a Team Player
Leadership was cultivated in me. I was raised to give 110%. I also played "hind catcher" in softball through high school and college. It's something of a directive position, because you're calling a lot of plays from home plate. Being in the kitchen, being a chef, a director—you have to call the plays for the team on behalf of the students.
I'm also the kind of director who's going to work side by side with my team. I'm not one to stand idle. Within the first week of meal deliveries, I was on a bus and then that's where I was every day. I don't mind working in the trenches. When others see me doing hands-on work, they realize that we're in this together.
Challenge in the Age of COVID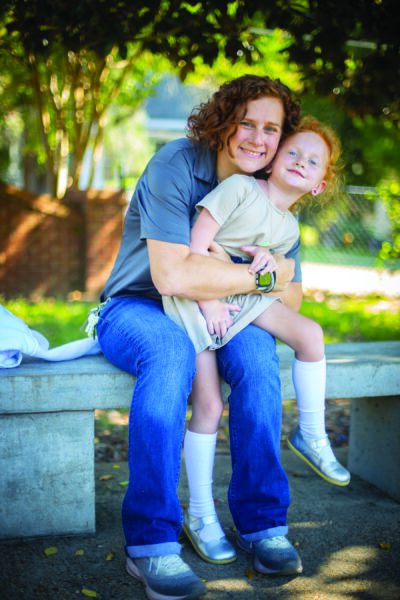 This is the year of unique challenges, both professional and personal. Staffing our kitchens is one problem. It's a very personal decision to enter the school building or get on a school bus. We're down to a handful of workers—short on cashiers, vegetable cooks and head cooks. I'm running between schools to make sure there's coverage. Looking ahead, we have to figure out how to feed students who choose remote learning without the regulatory waivers that we had last spring and summer.
It's been tough on me personally, as well. When shutdowns began last March, my daughter stayed with her grandparents for five weeks solid. That tugged at the heart strings. I've barely stopped to have time for myself since because I've been so concerned about trying to make sure everyone's babies are fed and that my team is taken care of, too. Still, I'm confident that we'll run like a well-oiled machine once again.
Leading With Love
I've mentioned my family and their incredible support; I also have an amazing partner, who inspires me every day. Being in this relationship makes me feel more like myself than I have ever felt, and I am grateful that I found an amazing woman to love and for being loved.
It hasn't always been easy, especially in the South, to be myself, and I am thankful to work in a school district that values diversity and respects me as an individual. Being able to speak about it freely is a big step for me, as I am a very private person. I'm not beating a drum here, but I hope that I can inspire others to embrace who they are and to follow their dreams.
My relationship doesn't define me as a professional, mother, daughter or friend. I think that the work that I do demonstrates how passionate I am about serving children and providing for their basic need of good nutrition to learn and grow into their best selves.
Forging Ahead
Right now, my main goal is to keep all my kids in the district fed and to try to have a little bit more family time. I had put my master's degree on hold last semester, but I want to resume that work. I completed my term as MSNA President and passed the gavel to Jeremy Berry, SNS, who has great ideas and will be a great leader!
I've contemplated running for a national leadership position in SNA, speaking with current Southeast Regional Director Vanessa Hayes, SNS, multiple times—I love her to death—about what's involved. I need to get my district to a very good, solid point before I take that next step, but I'm thinking about it!
I'm going to keep seizing any opportunities that will benefit the children in my district, my own children and my grandchildren to come. I'm going to turn all opportunities into goals worth working toward.
30-Second Bio
Hometown. Purvis, Mississippi (Childhood); Clinton, Mississippi (Current)
Education. Bachelor of Science, Hospitality Administration and Management, University of Southern Mississippi, Hattiesburg; Currently pursuing Master's Degree, Belhaven University, Jackson, Miss.
Title. Child Nutrition Director, Vicksburg-Warren School District
Program at a Glance. ~8,000 students; 15 serving sites; 140 employees; 6 elementary schools; $3.2-$6.9 million budget; 100% CEP district-wide; NSLP; SBP; FFVP; farm-to-school in three elementary schools; summer feeding; HealthierUS School Challenge Gold Award
SNA Leadership Highlights. Mississippi SNA President (2019-20)
Family. Daughter Esabella and "a beautiful partner with three amazing children.