There are some things that Anna Apoian, MPA, RD, SNS, takes very seriously, including her responsibilities as Nutrition Services Director at Norwalk-La Mirada Unified (Calif.) School District, her commitment to the professional growth of her staff and peers, the importance of feeding children and her humble gratitude for being named SNA's 2021 Director of the Year.
But she refuses to take herself too seriously, answering some of SN's questions with a joke or a bit of flippant self-mockery. ("Obviously, I'm not a very serious person," was her interview coda.) Apoian's humor and optimism is sure to be especially welcome in this new school year.
Leading With Spirit
My top leadership skills are being disarming and approachable, listening so that I can assess what is needed or wanted, and organizing so that what is needed or wanted can be achieved. And I can make people laugh. Or are they laughing at me? Either way, they laugh—and laughter is a gift to us all.
It's important as a leader of my team to keep things positive and fun and never forget the "why" we do what we do. I never had an ambition to serve as a volunteer leader in an organization like SNA or California SNA, but I'm glad for the opportunity. I enjoy giving back and supporting my colleagues in school nutrition, as I continue to learn from them. The experience has taught me that I really enjoy people—on a limited basis. (Insert a smile emoji here, please!) It's going to be an interesting year ahead as president of the Southern California SNA.
Lean on Me
I worked in the private sector until my late twenties and then returned to school to obtain my bachelor's in nutrition in my early thirties. After, I was quite fortunate to find my way to school nutrition with a recommendation from Lynette Rock, a now-retired California director, and then my supportive first boss, Meg Chesley at Corona-Norco Unified School District. She had created a new position and gave me a desk, a computer, a note with three goals—and her trust. Meg nurtured my creativity, when I didn't realize I had any.
My "ah-ha!" moment about school nutrition came when I attended a Southern California SNA chapter meeting. There were more than 200 people there, and they were all smiling, hugging and sharing. What a fantastic, supportive group! SNA has an outstanding networking system, from the national level to its local chapters.
Over the years, I've benefited from many friends and mentors, including Lynette and Meg, as well as Tony Roberts, an industry colleague who is just a wonderfully kind person. Currently, I have a protective and supportive boss, Estuardo Santillan, Assistant Superintendent of Business Services. What a difference it makes to have that support! I try to pay it forward by making sure that every day I take the time to give kudos to my team and to my colleagues.
Self-Reflections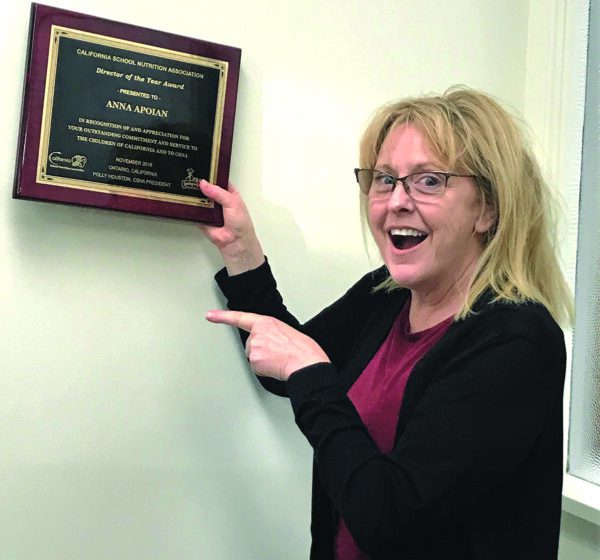 Over my wonderful, crazy, fun, challenging, full-of-mistakes life, I have learned that I can be very difficult to be around sometimes. Especially when my mind doesn't seem to stop or my mouth just keeps going without my mind! And yet, I must stop, and try to be still at times, if only for the sake of those around me.
About five years ago, I began to do speaking and training at other districts on the side, as a hobby. I have had such fun meeting new people, picking up on their energy. School nutrition professionals are the best crowd. My sessions feature different ways to engage adult learners. Activity is an important part of the learning process and so is playing—I want to make it fun!
But when it comes to public speaking—both as a trainer and as a volunteer leader with SNA—there was a significant amount of anxiety I had to get through at the start. Having the courage to stand up in front of people to share something that I think is important—it's quite challenging. (It's called "glossophobia"—truly, look it up!) Overcoming that fear is rewarding.
There's a saying: "Everything you ever wanted is on the other side of fear." It's so true. And what does it say about me that I even took this up as a hobby? It says, I'm a bit crazy! Who wants to speak in public?!
What's Next?
My next career goal is retirement. But I have a long list of my next life goals! I want to enhance my cooking skills. I want to learn photography. I want to be nicer to my husband, so that if I pass away first, he will miss me and not rejoice. I want to continue to try and stay healthy by hiking and doing my best to limit any weight gain to no more than three pounds a year.
I also want to find another volunteer opportunity. I help women who come to this country to start a new life learn to read English. I love this and have met interesting and courageous people. (The problem is that, even though English is my primary language, I have a hard time speaking it sometimes! With a slight "back-East" accent, I get my vowels mixed up and I may have done more damage than good.)
I may revisit volunteering for hospice care or Stephen Ministries—just listening when people are struggling through difficulties. I felt I did a good job there. But first, I want to help my team and Southern California SNA members figure out "what's next." The pandemic catapulted us into the future. We won't ever go back to where we were—we've gained new skills and found new ways to connect. We need to determine how we're going to apply all of this going forward.
As told to Patricia Fitzgerald, SN Editor
30-Second Bio
Hometown. Rolling Hills Estates, Calif. (Current)
Education. California State University, Long Beach (BS); California State University Dominguez Hills (MPA)
Title. Nutrition Services Director, Norwalk-La Mirada Unified School District, Calif.
Program at a Glance. 144 Nutrition Services staff, serving district with 27 schools and an enrollment of 16,000 students; NSLP, SBP, Supper, catering services
SNA Leadership Highlights. SNA Professional Development Committee (2021-22); President, Southern California SNA (2021-22)
Family. Husband Mark, sons Bob and Jack