Aaron Wylie, Child Nutrition Director of Eagle Mountain-Saginaw (Texas) Independent School District, didn't always want to work in school nutrition. He had a different goal: to become a leader within the sports and entertainment industry. When his son was born, though, his mindset shifted.
"The hardest challenge I've ever had was taking a pay cut from working in a professional stadium to work at schools—and hoping I would be good at it." Clearly the leap of faith more than panned out: This past January, Wylie was honored with the 2020 Foodservice Achievement Management Excellence (FAME) Silver Leadership Award, and now he's ready to dive into leadership positions with SNA.
Family First
My No. 1 life goal is to raise my children—keep them out of trouble and get them to adulthood. When I was younger, I worked at NRG Stadium, home of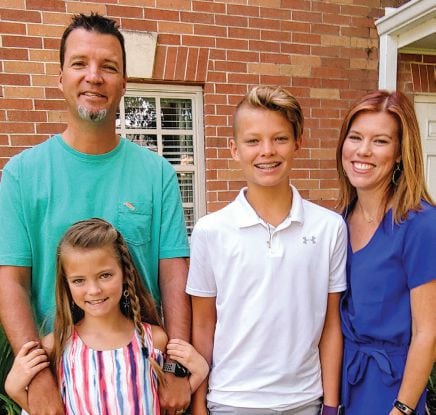 the NFL's Houston Texans. I really wanted to grow within that industry. But I was working six out of seven days a week, and after my son Austin was born, I thought it was more important to be home.
I'm actively working toward volunteer service with SNA. In the past, I wanted to get involved, but I just wasn't sure when I could make that commitment. I was worried about taking more time away from my family. Traveling isn't the easiest thing to do with my kids at their ages (9 and 13), but after the FAME award, I feel like I need to take advantage of leadership opportunities now.
On Leadership
I'm very much an empowering director; I believe that as a supervisor, you should provide the vision, along with the checks and balances, for your employees. You want to give them the power and the control to initiate new ideas on their own, but you have to make sure they're doing things correctly. I try to motivate my team by giving them freedom to try different things. It's never a process of me telling everyone exactly what and how to do things to get to a particular end result; I want to encourage others to come up with their own route.
I've been inspired by Debera Tredennick, MS, now retired, who was the director of Frisco Independent School District. Located in the Dallas-Fort Worth area, Frisco was the fastest-growing district in Texas, and Debera was a leader who really motivated and inspired me. I was coming from a contract-managed district to a self-operated one, and there are a lot of things you don't know when you do that. She was always willing to offer information and was so encouraging. Everyone in our region looked to her for guidance, and she was always there to help, no matter what.
Customers Are Key
Eagle Mountain-Saginaw is definitely a growing district, too; in recent years, we have increased by at least 1,000 students annually. We're constantly opening schools—one a year. Our superintendent is very supportive of our program, which allows us to be innovative. But we've somehow managed to retain a small-town district feel, with everyone on the team knowing that we're working toward the same goal.
Your students are your customers, and you have to make money in order to invest money back into your program.
Probably the best thing we've done as part of this process is to implement and finance a bistro concept at our four high schools. They're kind of like a Starbucks: They offer coffee, smoothies, salads and wraps. It's all served a la carte, and our dietitians have done a great job of making sure everything fits within Smart Snacks regulations. One site averages more than $2,000 a day at its bistro. We take the money we make from the bistros and invest it back into the program, funding better ingredients, like more-expensive fruits and vegetables that are used in reimbursable meals for all students.
I recommend other directors try to adopt a corporate mentality and apply that to their school nutrition operations. A lot of people say "Hey, it's schools," which somehow is interpreted that you aren't supposed to try to make money—or treat students like other foodservice customers. But, your students are your customers, and you have to make money in order to invest money back into your program. Treating it like a business is really how we like to run things here.
FAME Game
The experience of winning the FAME award was surreal. I had been nominated a few years in a row, and the vendor who nominated me—Quentin Layne at Basic American Foods, which sponsors the annual awards competition— kept telling me that I was so close to winning each year. I think I had begun to lose a little faith, so while I was excited about winning an award, I figured it was just an event where I would show up, collect my award and get on with attending SNA's School Nutrition Industry Conference (SNIC).
But as soon as I arrived at SNIC, I realized that it was a pretty big deal! I received congratulations from my peers and other vendors wherever I went. Spending time with former winners was amazing. I'm just not used to winning something so prestigious, so the whole SNIC event was the experience of a lifetime.
30-Second Bio
Hometown. Seabrook, Texas (Childhood); Keller, Texas (Current)
Education. Bachelor's degree in Marketing, Texas State University, San Marcos
Title. Child Nutrition Director, Eagle Mountain-Saginaw Independent School District, Fort Worth, Texas
Program at a Glance. Suburban district with 27 schools, 175 employees and more than 21,000 students
Family. Wife Marissa, Children Austin and Alexis