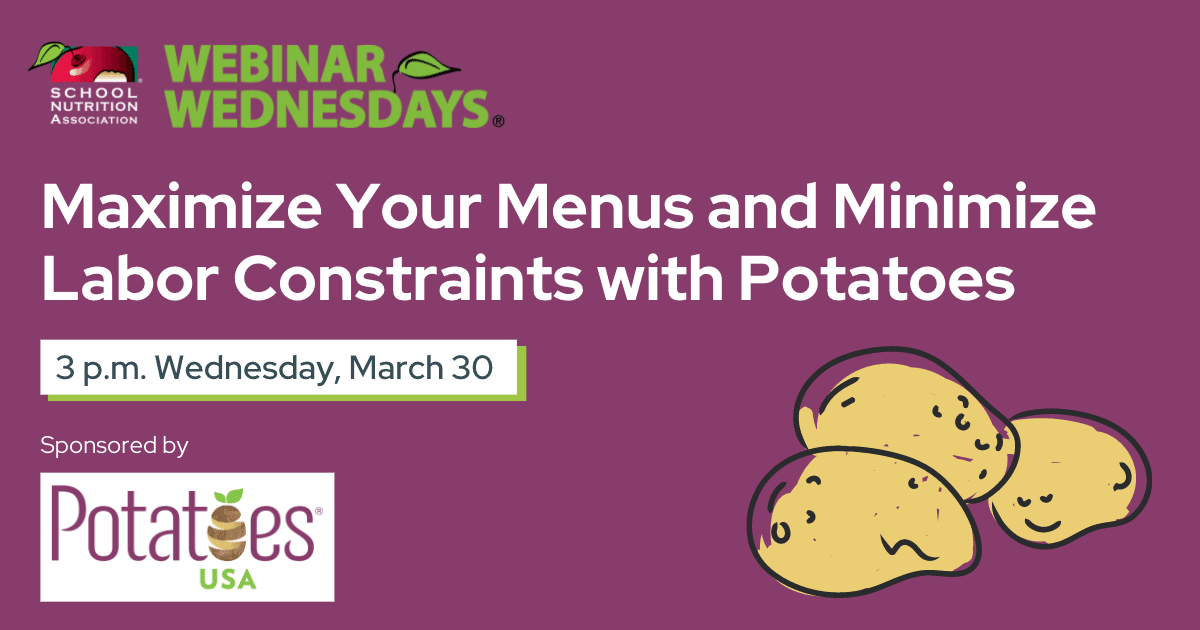 Potatoes USA's Culinary Director, RJ Harvey teams up with School Meals That Rock's Dayle Hayes to showcase on-trend, student-friendly menu innovations, solutions to help ease labor strains and ways to maximize USDA Foods – all featuring potatoes.
Learning Objectives
Describe how potatoes can help reduce labor needs in the back of the house.
Discuss how to utilize potato products in unexpected ways across the menu.
List three new ways to customize potato menu items to fit their operational needs.
List two potato nutrition myths and how to share accurate facts.
Identify the nutrition benefits and attributes of potatoes and how they benefit students.
Earning CEUs
SNA CEUs: 1.0
Key Area 1000: Nutrition
Key Topic 1100: Menu Planning

CPEUs for RDNs and NDTRs
Suggested Performance Indicators
13.2.2 Evaluates and incorporates individual and target group needs and requirements in the development of menu items.
13.2.5 Participates in ongoing evaluation of menu items, quality of products, costs, nutritional values and client needs.
Suggested Learning Need Codes
CPEUs: 1.00
CPE Level: 1
SNA CDR Provider Number: AM007
Please note that you have the option to submit an evaluation of the quality of this webinar directly to the Commission of Dietetic Registration. Email contact: QualityCPE@eatright.org