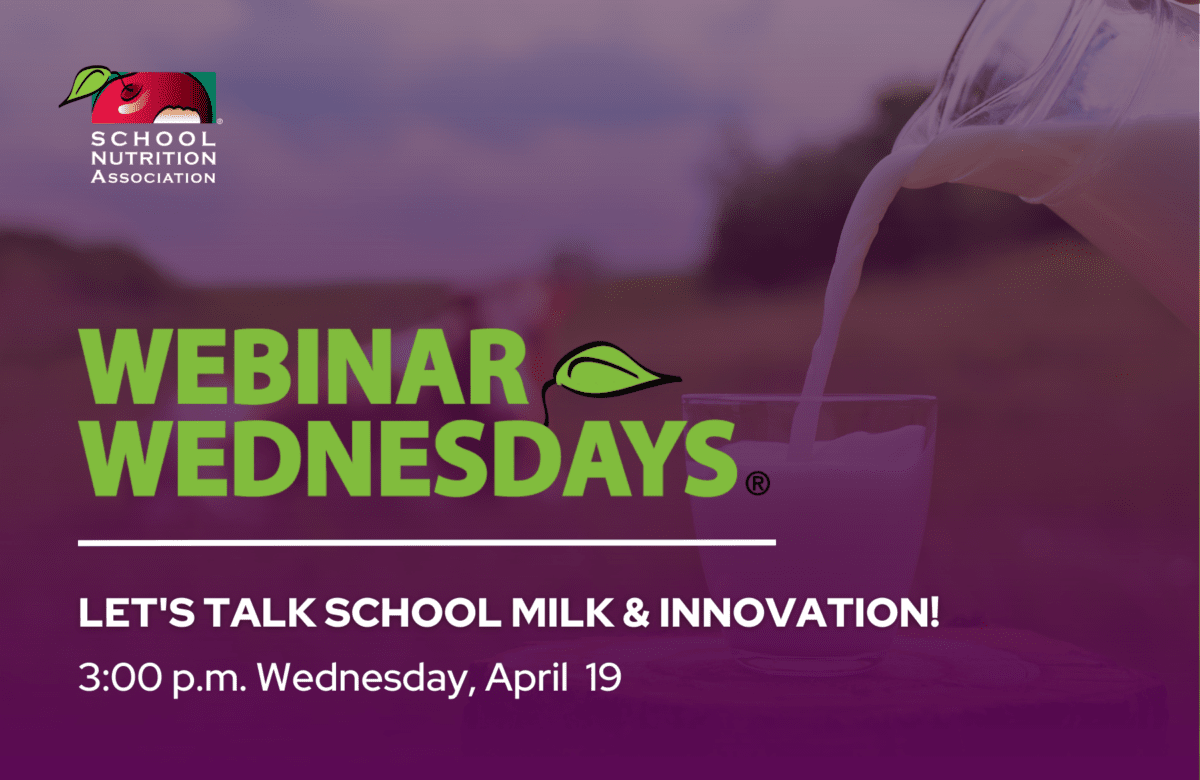 LIVE: 3:00 pm  Wednesday, April 19, 2023
Register Now
During this session, you will hear innovative strategies school nutrition professionals are using across the country to help increase meal participation, increase milk consumption and decrease waste. These strategies include the use of shelf-stable milk, introduction of milk dispensers & the importance of milk options (hint: flavors matter!). These strategies will be supported by pre- and post-data from schools who have implemented them, along with best practices and tips to get started. We will also go back to the basics and provide simple tips for keeping milk cold.
Speakers include Amy Woosley, Child Nutrition Supervisor at Ogden School District, UT and Peggy Hamby, Director of Food & Nutrition in Morgan County Schools, TN – as well as registered dietitian & dairy nutrition expert Katie Bambacht.
If you are registered but can't attend live, you will get a notification when the recording is available.

Learning Objectives
1. Describe the nutritional benefits of milk in children's diets and the important role of school meals in helping children come closer to meeting the dietary recommendations.
2. Discover simple strategies and best practices school nutrition professionals can implement to increase meal participation and milk consumption.
3. List ways you can help ensure that your milk stays cold.
EARNING CEUs
SNA CEUs: 1.0
Key Area 1000: Nutrition
CPEUs for RDNs and NDTRs
Coming Soon!
Speakers
Katie Bambacht, RDN, SNS
Katie Bambacht is Vice President of Nutrition Affairs for National Dairy Council. Katie has been with the dairy community since 2016 and is a registered dietitian/nutritionist and credentialed school nutrition specialist. She has worked as an expert in Child Nutrition Programs for 15 years – starting with Chartwells-Thompson Hospitality servicing over 450 Chicago Public Schools followed by Catholic Charities of the Archdiocese of Chicago coordinating the Child and Adult Care Food Program. Katie has a Bachelor of Applied Health Science from Indiana University and completed her dietetic internship at Loyola University Chicago.
Amy Woosley
Amy Woolsey is currently the Child Nutrition Supervisor at Ogden School District and has spent the past 8 years working in child nutrition. Amy received a Bachelor's degree in Health Promotion and Administration. Amy currently serves as the Past President of the School Nutrition Association of Utah and sits on the board for The Utah Breakfast Expansion Team and Ogden Food Council. Amy is passionate about and committed to increasing access to nutritious school meals to all children.
Peggy Hamby
Director of Food Service & Nutrition
Morgan County Schools, Tennessee