Inject a healthy dose of fun into school foodservice by celebrating Halloween! The majority of what makes Halloween so entertaining—the food, the decor and the costumes—can be translated into multiple modes of service. Whether you're serving meals in the cafeteria, in the classroom or at curbside, you can still have a spooky good Halloween celebration.
Give Me Something Good to Eat
When you think of Halloween, it's likely that a singular category of edible item springs to mind: candy. Whether it's chocolate, sour gummies or lollipops, trick-or-treating has everyone trained to desire and expect a sweet treat on this festive occasion.
Of course, federal nutrition standards mean that incorporating sugar-based candy into school meals is off the table, even for Halloween. But that doesn't mean you can't get into the Halloween spirit with your menu! Some companies offer Halloween-inspired products, but you can also apply some simple modifications to entrées that you may already feature on the menu. For example, adding three sliced olives (two for eyes, one for a mouth) atop a mozzarella-covered pizza slice turns it into a ghost without a significant amount of extra labor. "Mummy Dogs" are another popular concept for a Halloween menu: Just wrap hot dogs with strips of dough and bake, then serve with "blood" (that is, ketchup!) on the side for dipping.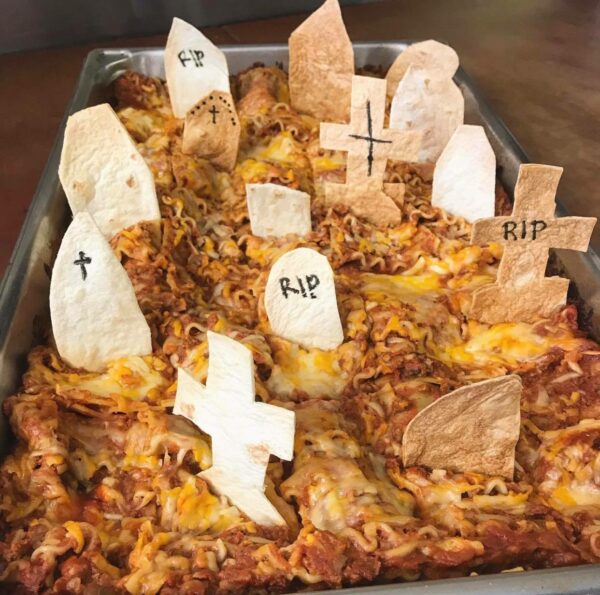 You can also have fun with a black permanent marker and the packaging of individually wrapped items. For example, the clear lid of a container of mandarin oranges or the front of a baggie of whole-grain goldfish crackers transforms into a jack-o-lantern with two drawn-on triangle eyes, a nose and a mouth. A banana or cheese sticks can become ghosts with the drawing of a ghoulish face, and a clear cup of fresh grapes can be the canvas for Frankenstein's head with squiggly hair around the top, two eyes, a mouth—and some randomly placed scars, of course!
There might already be so much extra work involved this year to simply get the food to kids—making the idea of adding any extra labor too much to consider. In that case, apply your creativity to menu names for popular favorites. Here are some ideas to get your creative juices flowing:
Spiderwebs and Eyeballs (Spaghetti and Meatballs)
Halloweenies (Hot Dogs)
Boo-ffalo Chicken Dip (Buffalo Chicken Dip)
Spooky Spuds (Mashed Potatoes)
Bat Wings (Chicken Wings)
Boo Beans (Baked Beans)
Draculoni and Cheese (Macaroni and Cheese)
Spiderweb Soup (Chicken Noodle Soup)
Ghoul-lash (Goulash—check out the recipe above!)
Witch's Teeth (Corn)
Vampire Soup (Tomato Soup)
If none of these items fit with your menus, that's OK—do a few internet searches to compile a list of Halloween-inspired words, and you are sure to find a few that, with a little imagination, fit your menu plans. It's always fun to play around with alliteration or other wordplay. Consider, for example, Frankenstein's Fajitas, Gooey Grilled Cheese and Chilling Chicken Sandwiches.
Boo-tiful Decor
You may be used to hauling out boxes of holiday decor to spruce up your serving line and the cafeteria—and, perhaps, some schools will still be doing so, if they're welcoming students into those spaces. Others might have to limit their holiday decorations to mobile carts pushed through the hallways or out to the curb.
In either case, decorations don't have to be complicated or expensive; paper cutouts of pumpkins, witches' hats and ghosts will add flair and just require construction paper and tape. You can also make use of leftover items from the kitchen itself. For example, instead of recycling your #10 cans, paint them orange, green and black. From there, you can turn them into jack-o-lanterns, Frankensteins (or goblins) and black cats with the help of a little bit of extra paint and construction paper.
One fun way to decorate for Halloween, no matter where you're setting up shop, is with food carvings—and not only of pumpkins! While traditional jack-o-lanterns will always have a place at Halloween, you can put your own foodservice twist by carving a watermelon in the same manner that you would carve a pumpkin. Don't worry if you're not artistic—The National Watermelon Board provides complete instructions for such carvings as pirates, witches, bats and mummies on its website, www.watermelon.org/carving.
All Dressed Up
If you didn't don a costume, did you even celebrate Halloween? Just kidding! A festive apron or an orange-colored shirt is all you need to show that you're in the holiday spirit.
If you do plan to wear a costume— and you've cleared it with supervisors for suitability while serving—you might consider food-themed fun as a way to connect back to school meals. It's even more enjoyable if the site's entire staff joins in on the fun, but don't pressure anyone who isn't game. Easy costume ideas include:
Smart Cookie: Tape cookie cut-outs to a graduation robe and cap.
Holy Guacamole: Stick avocado cut-outs to a green shirt and add angel wings and a halo.
Pineapple Party: Dress in all yellow and craft a leafy green crown out of construction paper. For a twist, transform yourself into a strawberry by dressing all in red!
Spice Girls (and Boys!): Grab a few friends and attach enlarged photos of branded spice jars to aprons.
Cone Heads: Cut strips of construction paper and attach them to a white outfit to simulate sprinkles, then craft a cone made from beige construction paper and attach it to a headband.
M&Ms: Simply draw or iron an 'M' onto various solid colors of T-shirts.
Of course, you can also celebrate the fact that you and your coworkers are nothing less than superheroes. Make this the year to don those capes and cowls for a super-duper Halloween costume!
Skele-Ton of Fun
Halloween is a celebration of creativity and good times, both of which can help you, your colleagues and your student customers get through what's bound to be a very abnormal year. We know there's a lot of planning to be done for SY2020-21, but don't forget to incorporate a little preparation for revelry—no matter where the celebrations are held.
Kelsey Casselbury is SNA's Content Director.
Frankenstein Watermelon Carving & Fruit Salad
Decorate your serving line—even a mobile serving station or food delivery cart—with this fun watermelon carving.
Supplies
Oblong-shaped watermelon
Honeydew melon
Chocolate sandwich wafer cookies—large and mini sizes
Black edible sugar sheets or construction paper
Black licorice strings
Chocolate-covered mini donuts
White icing
Tools
Straight pins or toothpicks
Large kitchen and paring knives
Pair of chopsticks
Melon baller
Green dry-erase marker
Instructions
Wash the watermelon under cool running water and pat dry.
On a cutting board, place the watermelon on its side and cut ½- to ¾-in. off of each end, creating a sturdy base and top portion of the carving.
Stand the watermelon upright. Scoop out a good amount of the red fruit from the top of the watermelon with a melon baller. Set aside the watermelon balls.
Cut the honeydew melon in half and scoop out balls. Mix the honeydew balls with the watermelon balls.
Put the combined melon balls into the hallowed-out watermelon.
Using the ends that were cut off from the watermelon, draw a "nose" with a dry-erase marker. Use a paring knife to cut it out and attach it to the watermelon using straight pins or toothpicks.
For the eyes, take two large chocolate wafer cookies and two small chocolate wafer cookies and separate the halves, leaving the white frosting intact. Using sturdy toothpicks or straight pins, attach the large cookies, with the white icing facing outward, to the watermelon. Attach just the small black cookie portion to the white icing to create Frankenstein's pupils.
Take the black edible sugar sheets (or construction paper) and cut it in half lengthwise, followed by zig-zag cuts to create his "hair." Attach it to the top of the watermelon using straight pins.
Use pins to attach black licorice to create the "mouth" and random "stitches" on the face.
Three-fourths of the way down the watermelon, on each side of the face, insert a chopstick and attach a chocolate-covered mini donut to each chopstick to resemble the bolts in Frankenstein's neck.