A new school year is officially underway, and that means fresh opportunities! Just as the students at schools throughout your district will be learning new things throughout the coming months, so too will the many team members who make up your school nutrition program. We're helping you maximize your professional development potential with an insightful look at new training methods, tips from experts, and best practices you should keep in mind when you're providing these oh-so-important learning opportunities.
Log into your SNA account and take a look at our coverage found in the September/October 2023 edition of School Nutrition. Here's what you'll find:
Training Your Talented Teams Today: Training has come a long way in recent years, and it no longer needs to be in person and in real time, thanks to the many virtual approaches now available to you.
Teaching and Reaching Adult Learners: Not everyone learns the same way—it's as true of adults as it is of children. Understanding how your team members learn will help you develop the right training programs.
Train Smarter, Not Harder: These members of SNF's Cadre of Trainers have all kinds of tips and tricks for effective prep practices you can employ with your team.
Are You Ready to LEAD to Succeed™?: We've got eight did-you-knows about LEAD to Succeed™, the SNF program offering all kinds of training opportunities and tools.
Food Focus: Paradise Found: Hawaiian cuisine brings together tastes from all over the world, offering tropical treats with tremendous nutritional benefit.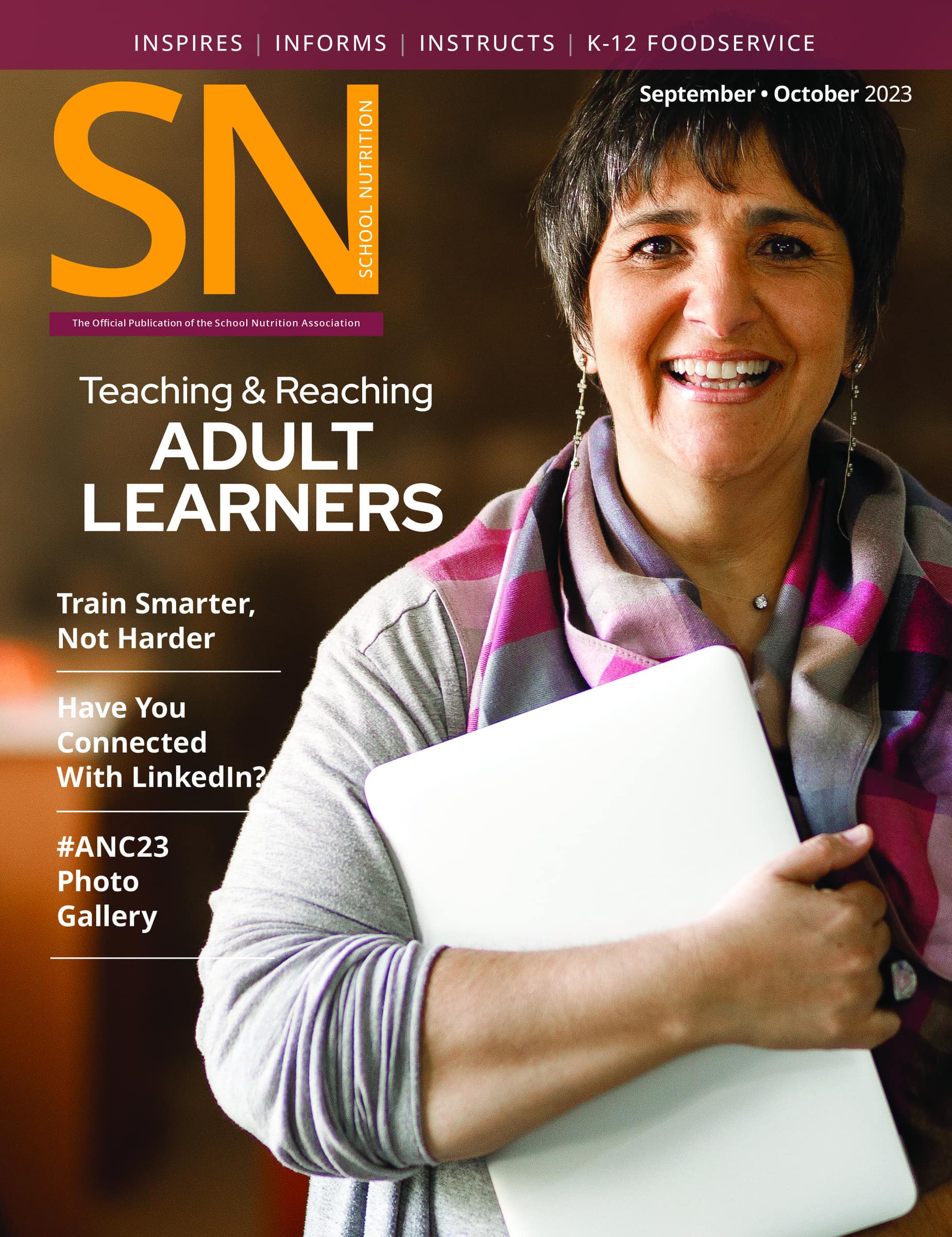 Get Access to School Nutrition
If you're an SNA member, sign in now to read the articles. If you are not a member, join to get access to all of the great content in School Nutrition!
Gain the Competitive Edge with School Nutrition Magazine
As the premier publication for the school nutrition profession, School Nutrition magazine is SNA members' go-to resource for information, inspiration and innovative ideas on important issues, both in and out of the cafeteria. By advertising, you'll not only promote your products and services to this important market segment via a reputable national magazine, you'll also be part of the movement to provide healthy meals to America's students.