School Nutrition: Safety First, Last and Always
In the workplace, safety and sanitation should always be top of mind. The September 2020 issue of School Nutrition helps to reinforce that with an issue dedicated to both topics.
Log into your SNA account and scroll down to read this month's articles, view the digital issue or download a PDF of the magazine to print or share. Here's what's covered:
When the novel coronavirus pandemic first began in the spring, there was a lot the world didn't know about the disease, how it spread and how to stay safe. In " COVID-19: What We Know Now That We Didn't Know Then," SN takes a look at the latest information about the disease, including an updated list of symptoms of an infection, details on asymptomatic patients and whether kids can catch and spread COVID-19.
Employees and managers might dread the day the health department comes to inspect their operation, but there's no need to fear these important partners. Three health inspectors-turned-school nutrition directors share what you need to know to pass the inspection with flying colors in " Three Former Health Inspectors Walk Into a School Kitchen..."
For the past six months, school foodservice professionals have been focused on how to stay safe from COVID-19. As schools start to reopen for a new year, it's important to remember that a safe foodservice workplace is just as important. In " Safety First, Last and Always," a member of the American Society of Safety Professionals and former school nutrition director shares what to review in your operation to make it as safe as possible for workers.
There are a lot of things for school nutrition team leaders to think about these days, but don't forget to think about how to have fun at work. " This Is The Way We Play" shares play gives directors power and purpose—even during a pandemic.
Tuna is protein-packed and nutrient-loaded, but before you enjoy or menu this classic lunch option, be mindful of sustainability and mercury concerns. " All the Dish on Tuna Fish" lays out what you need to know.
Additionally, the School Nutrition Association continues to celebrate its 75th anniversary with interviews featuring the leaders of yesterday, today and tomorrow. This month, Dora Rivas, SNS (SNA President 2009-10), Mark Bordeau, SNS, and Jason Carter reflect on the history of the profession, as well as future opportunities.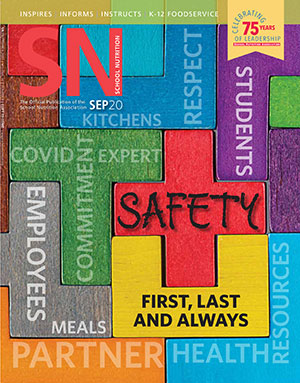 Get Access to School Nutrition
If you're an SNA member, sign in now to read the articles. If you are not a member, join to get access to all of the great content in School Nutrition!
Gain the Competitive Edge with School Nutrition Magazine
As the premier publication for the school nutrition profession, School Nutrition magazine is SNA members' go-to resource for information, inspiration and innovative ideas on important issues, both in and out of the cafeteria. By advertising, you'll not only promote your products and services to this important market segment via a reputable national magazine, you'll also be part of the movement to provide healthy meals to America's students.