School Nutrition: Step Up Your Video Game
Lights, camera, action! This month's issue of School Nutrition magazine has everything you need to know about promoting your school meal programs via social media videos.
Log into your SNA account and scroll down to read this month's articles, view the digital issue or download a PDF of the magazine to print or share.
In This Issue
Farewell and Thank You to Josephine Martin. School Nutrition celebrates the life of Dr. Josephine Martin, a towering figure in the child nutrition field.
Stream, Share, Succeed.

Show your community stakeholders "the big picture" of your everyday operations with videos shared on social media. Six districts reveal how they did just that.

Recording in Progress.

Glean seven tips for perfecting your videos from expert Janet Scanlon, SNA's Digital Marketing Manager.

Media Alert!

When social media misinformation takes hold, control the mayhem by taking control of the message.

Grow, Know, Go!

Stay on the path of continued learning, despite competing priorities, by challenging yourself to push past fear and discomfort. 

Myths & Legends: Apple Edition.

Is apple pie really that American? Who was Johnny Appleseed? Do apples really keep the doctor away? SN dissects some of the age-old stories behind the popular fruit.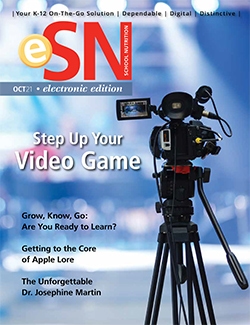 Get Access to School Nutrition
If you're an SNA member, sign in now to read the articles. If you are not a member, join to get access to all of the great content in School Nutrition!
Gain the Competitive Edge with School Nutrition Magazine
As the premier publication for the school nutrition profession, School Nutrition magazine is SNA members' go-to resource for information, inspiration and innovative ideas on important issues, both in and out of the cafeteria. By advertising, you'll not only promote your products and services to this important market segment via a reputable national magazine, you'll also be part of the movement to provide healthy meals to America's students.