School Nutrition: Store More
Storage and inventory practices are not always fun, but they are a critical part of any foodservice job.
How do you track your inventory and ensure that you have a daily meal for every student—especially the ones eating in the last group? Ever cleaned out your storage areas and found some unique objects? And, do your storage areas spark joy?
Log into your SNA account and scroll down to read this month's articles, view the digital issue or download a PDF of the magazine to print or share. Here's what's covered:
This month, School Nutrition is diving into storage and inventory practices to help ensure your school foodservice operation is efficient, clean and stocked up. Do your inventory spaces "spark joy?" Get inspired by Marie Kondo's #KonMari method and whip your storage areas into shape with help from this organizing expert. With time and attention, you can boost your current inventory management practices. And, we reached out to former health inspectors and your fellow K-12 operators to learn their tricks, tips and funny stories related to storage and inventory management.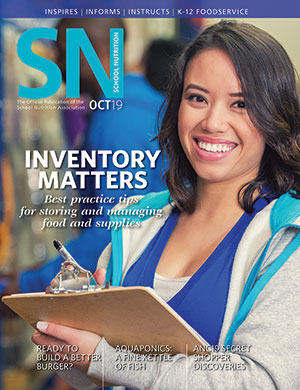 Get Access to School Nutrition
If you're an SNA member, sign in now to read the articles. If you are not a member, join to get access to all of the great content in School Nutrition!
Gain the Competitive Edge with School Nutrition Magazine
As the premier publication for the school nutrition profession, School Nutrition magazine is SNA members' go-to resource for information, inspiration and innovative ideas on important issues, both in and out of the cafeteria. By advertising, you'll not only promote your products and services to this important market segment via a reputable national magazine, you'll also be part of the movement to provide healthy meals to America's students.