November/December 2021 Issue
School Nutrition: Dig Into Tasty!
Climb the career ladder with the November/December issue of School Nutrition magazine. From consideration for hiring a career coach (or becoming one yourself!) to ways to improve your emotional intelligence, or "people smarts," the latest issue of SN has what you need to take your professional life to the next level.
Log into your SNA account and scroll down to read this month's articles, view the digital issue or download a PDF of the magazine to print or share. Here's what's covered:
Taking the Coach Approach. Athletes turn to coaches for pointers on how to improve, so why not take the same approach to your career? Get help in determining if you could benefit from a professional coach practitioner and, if so, what to expect from the process.
Interested in a coaching career path? Is a coaching career right for you? You might be just the right person to help others achieve their goals. The International Coaching Federation can get your start with the proper training.
Emotional Intelligence at Work. You know what IQ is, but what about EQ, or emotional intelligence? Those who are "people smart" tend to be happier at work, better supervisors and more productive—and EQ consists of skills that can be learned.
Assess yourself. Although most EQ assessments are done professionally, you can take a self-assessment to get yourself started on the path to higher emotional intelligence. There are a lot of online options, but try out this assessment from the Institute for Health and Human Potential.
Critical Care. Every so often, a school nutrition department has to deal with a difficult employee—but you can turn the situation around. Jessica Shelly, MBA, REHS, SNS, and Courtney Morabito, MBA, DTR, SNS, of Cincinnati Public Schools share their Progressive Coaching program that other districts can apply in their own programs.
Bonus web content. Download CPS' Progressive Counseling Form and Guide to Engaging in Produce 1:1 Check-in Meetings.
From Woah to Wow. School district meal programs are surviving (and thriving) despite shortages of food, supplies, equipment and staff. Here's how operators have made school lunch lemonade from supply chain lemons.
Watch:

Speaking the truth: "We sometimes have our blinders on so tight that we forget we can lighten up," says Rita Denton, MBA, of Mansfield (Texas) Independent School District. They received potato chips instead of corn chips, and instead of freaking out, they served "Irish Nachos."
The Root of the Matter. It's that time of year again when farmers markets start filling up with beautiful winter vegetables, including roots. Do you know your root vegetables?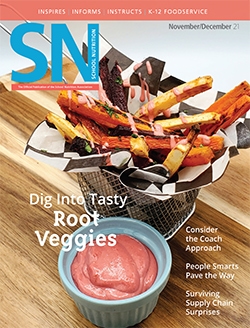 Get Access to School Nutrition
If you're an SNA member, sign in now to read the articles. If you are not a member, join to get access to all of the great content in School Nutrition!
Gain the Competitive Edge with School Nutrition Magazine
As the premier publication for the school nutrition profession, School Nutrition magazine is SNA members' go-to resource for information, inspiration and innovative ideas on important issues, both in and out of the cafeteria. By advertising, you'll not only promote your products and services to this important market segment via a reputable national magazine, you'll also be part of the movement to provide healthy meals to America's students.