November/December 2020 Issue
School Nutrition: Catch You on the Flip Side!
In a year where so much feels upside down, School Nutrition is applying that spirit in a fun way with the November/December issue of the magazine! In this debut double issue, formatted as an innovative flipbook, you'll find information on controlling food and other waste in the November half of the magazine and features on the Administrative Review process in the December half of the issue.
Log into your SNA account and scroll down to read this month's articles, view the digital issue or download a PDF of the magazine to print or share. Here's what's covered:
November 2020
As districts pivoted to using more individually wrapped items during the coronavirus pandemic, waste added up. However, as Dayle Hayes, MS, RD, and Jeanne Reilly, NDTR, SNS, point out in " Minimizing Waste in the Time of COVID-19," the small measures school nutrition professional take to combat excess waste can really add up.
What does "sustainability" really mean, and how does it impact K-12 foodservice operations? In " Waste Not, Want Not," Editor Patricia L. Fitzgerald delves into the problems, perceptions and possible solutions for addressing environmental sustainability issues.
Kids love the sour, tangy, salty taste of pickles—but when it comes to making your own, you're not limited to just cucumbers! Explore the world of pickles (of all kinds) in " In Praise of Pickles," by Dylan Roche.
December 2020
Does the Administrative Review process seem confusing? Barry Sackin, SNS, lays out the basics in " The Administrative Review and You."
A successful Administrative Review requires prepwork. Editor Patricia L. Fitzgerald shares tips from a quartet of school nutrition directors who have developed a winning strategy in " Are You Ready to Slay Your Next AR?"
When it comes to Administrative Reviews, state agencies are often seen as the enemy—but they shouldn't be! In " We're All Friends Here," by Contributing Editor Kelsey Casselbury, three state agency directors give their best advice on how to work collaboratively during your next AR.
Looking for new ways to serve veggie subgroups? Thanks to the chemical reactions, roasted vegetables may please even the pickiest of palates! Contributing Editor Kelsey Casselbury explains why in " Turn Up the Heat."
The School Nutrition Association continues to celebrate its 75th anniversary with interviews featuring the leaders of yesterday, today and tomorrow. This month, Shirley Brown, EdD, SNS (Director of Product Training, K-12, Rich Products Corporation), Ervin Watson, School Nutrition Coordinator, Douglas County School District, Georgia) and Ruth Connor, SNS (Director of Food & Nutrition Services, Williamsville Central School District, New York), reflect on the history of the profession, as well as future opportunities.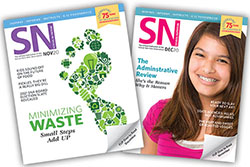 Get Access to School Nutrition
If you're an SNA member, sign in now to read the articles. If you are not a member, join to get access to all of the great content in School Nutrition!
Gain the Competitive Edge with School Nutrition Magazine
As the premier publication for the school nutrition profession, School Nutrition magazine is SNA members' go-to resource for information, inspiration and innovative ideas on important issues, both in and out of the cafeteria. By advertising, you'll not only promote your products and services to this important market segment via a reputable national magazine, you'll also be part of the movement to provide healthy meals to America's students.