School Nutrition: We Love Our Staff!
Just as healthy food powers students through their busy days, a hardworking team makes your school's nutrition program thrive and achieve success. This month, eSN magazine focuses on the value of your staff—the great work they do and how you can support them, as well as the labor and staffing challenges that pervade the school nutrition workforce today.
Log into your SNA account and scroll down to read this month's articles, view the digital issue or download a PDF of the magazine to print or share. Here's what's covered:
In This Issue
Farewell, Phyllis Griffith. School Nutrition says goodbye to an influential leader in our organization, Phyllis Griffith, who served as Association President from 1999-2000 and directed the school meal program at Columbus (Ohio) Public Schools for decades.
Help Really, Really Wanted.

Nearly every workplace is struggling to recruit and retain workers these days, and school cafeterias are no exception. Let's confront the difficult truths that your nutrition team needs to know, along with the short- and long-term solutions you can implement to keep your kitchen open.

Teamwork Makes the Dream Work.

Teamwork isn't a one-size-fits-all concept. To get a better understanding of how school nutrition programs are finding success through the labor shortage, we reached out to ask our members directly—and their answers are truly insightful!

Leveling the Playing Field.

Not every school nutrition program has access to the same resources. And where inequality exists, there needs to be a little extra assistance if everyone involved is going to be set up for success. Gain a better understand of the difference between equality and equity in the workplace, and start creating real change.

Savor the Morning.

 If your go-to breakfast menu options encompass too many sweet foods, it's time to rethink your approach. Who says savory can't be a great taste for the first meal of the day?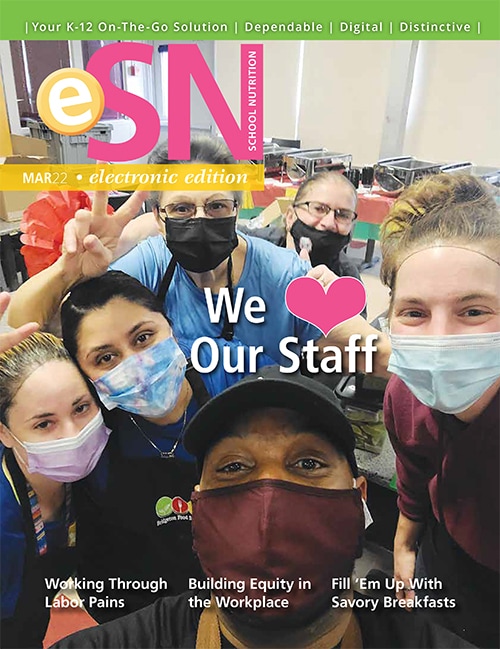 Get Access to School Nutrition
If you're an SNA member, sign in now to read the articles. If you are not a member, join to get access to all of the great content in School Nutrition!
Gain the Competitive Edge with School Nutrition Magazine
As the premier publication for the school nutrition profession, School Nutrition magazine is SNA members' go-to resource for information, inspiration and innovative ideas on important issues, both in and out of the cafeteria. By advertising, you'll not only promote your products and services to this important market segment via a reputable national magazine, you'll also be part of the movement to provide healthy meals to America's students.