School Nutrition: Dietitians in School Nutrition
Eating square meals isn't for squares—get insights on the experts who live and breathe this philosophy this March in SN's special "Ask the Dietitian" edition! That's not all—as nutritionists know, a healthy plate features a fair share of whole grains! Fuel up your knowledge of unusual grains with this month's Food Focus. And, whether you attended SNIC 2019 in Austin, Texas (because even school foodservice professionals can't be everywhere), or are hoping to live vicariously, this photo essay recaps SNA's hallmark meeting!
Log into your SNA account and scroll down to read this month's articles, view the digital issue or download a PDF of the magazine to print or share. Here's what's covered:
Ask the Dietitian Insights shared by a dozen registered dietitians will add to your understanding of nutrition fundamentals—and nutrition fun!
Temporary Help; Lasting Impact What do you get when you host a dietetic intern? Far more than a friendly face! See how these "temps" give you tons of bang without requiring a buck.
Academy Rewards What is the Academy of Nutrition and Dietetics? Who is in it—how can you join? How long has it been around and what are its standards? The answers to these questions, and more, in this get-to-know you article from Dayle Hayes.
SNIC 2019: Minding Their Busine$$ From stimulating photos to key descriptions, you'll want to make this conference wrap your busine$$.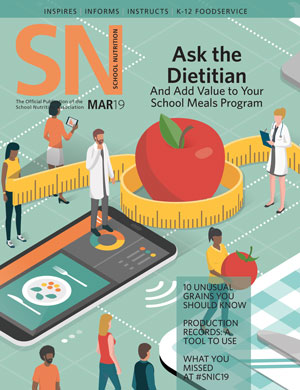 Get Access to School Nutrition
If you're an SNA member, sign in now to read the articles. If you are not a member, join to get access to all of the great content in School Nutrition!
Gain the Competitive Edge with School Nutrition Magazine
As the premier publication for the school nutrition profession, School Nutrition magazine is SNA members' go-to resource for information, inspiration and innovative ideas on important issues, both in and out of the cafeteria. By advertising, you'll not only promote your products and services to this important market segment via a reputable national magazine, you'll also be part of the movement to provide healthy meals to America's students.