We wouldn't coat anything on the lunch menu in a lot of added sugar—which is we're also not sugarcoating the fact that SY2022-23 will have plenty of challenges, just as we've seen over the past two school years.
But we're focused on being positive instead of negative—and SN's June/July 2022 issue is all about being resilient, tireless, inventive and pretty much unstoppable when it comes to our mission of getting nutritious meals to students.
Log into your SNA account and scroll down to read this month's articles, view the digital issue or download a PDF of the magazine to print or share. Here's what's covered:
READY for What's Next. School nutrition professionals share the problems they're facing and how they're solving them, including innovative strategies and solutions. Take advantage of their insight and consider what methods might work in your district.
Riding

Out the Storm.

A look at the s

upply chain delays, labor shortages and other major challenges you will likely continue to face in the upcoming year.
You Are Not Alone. Other school nutrition professionals across the country are enduring the same challenges as you, and there are ways you can rise above the obstacles, gain support from those around you and continue leaving an impact on the most important people of all: your students.
Little Bits of Good. For 50 years, the School Nutrition Foundation has provided scholarships and grants for SNA members. At the center of its mission are four simple words that convey a big message: get, give, learn, teach.
Southern Comfort. Take a trip down South to learn about the range of cultural influences, from Indigenous tribes to Caribbean immigrants and everyone in between, on its cuisine.
Onsite Insights: Rest, Refresh & Reenergize. Taking care of your students sometimes means taking care of yourself first: Stop burnout, maintain healthy self-care practices, being intentional avoid letting the work stress overwhelm you.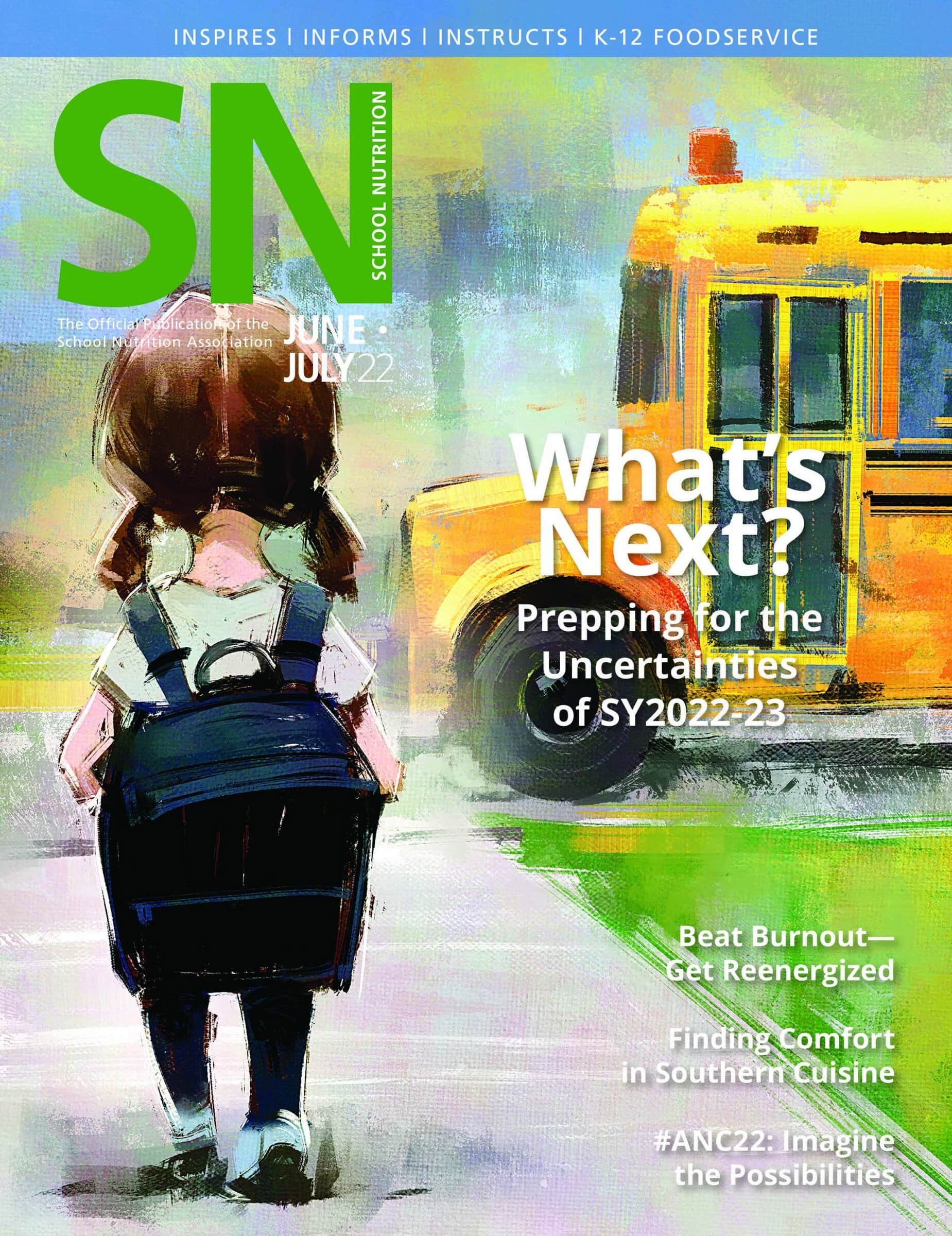 Get Access to School Nutrition
If you're an SNA member, sign in now to read the articles. If you are not a member, join to get access to all of the great content in School Nutrition!
Gain the Competitive Edge with School Nutrition Magazine
As the premier publication for the school nutrition profession, School Nutrition magazine is SNA members' go-to resource for information, inspiration and innovative ideas on important issues, both in and out of the cafeteria. By advertising, you'll not only promote your products and services to this important market segment via a reputable national magazine, you'll also be part of the movement to provide healthy meals to America's students.