School Nutrition: Celebrating 75 Years!
My, my, how time flies! The School Nutrition Association is celebrating 75 years of serving America's children, and you can read all about it in this month's issue of School Nutrition magazine. From lessons for students to key concepts for staff, the June/July 2021 issue of School Nutrition has all sorts of ideas and inspiration.
Log into your SNA account and scroll down to read this month's articles, view the digital issue or download a PDF of the magazine to print or share.
In This Issue
Celebrating 75 Years of Serving Kids. School nutrition professionals have been dedicated to feeding the country's schoolchildren for three-quarters of a century—take a look back at the profession's major milestones.
Teaching Them a Lesson. Five school nutrition departments

that have incorporated inventive nutrition education initiatives into meal offerings.

Making the Most of Harvest of the Month. There's an easy, effective way to connect kids to local foods in the cafeteria: Harvest of the Month! Here are the fundamentals of HOTM programs, resources, campaign ideas and more.
Nutrition Education for Grownups. Why should school nutrition staff be well-versed in healthy eating concepts? Reasons the team should be informed, ways to impart that information and key nutrition tenets to get started.
The Cob Chronicles. It's the season for fresh, juicy corn! Did you know that the U.S. grows more corn than any other crop? But you might be surprised as to where all those kernels go.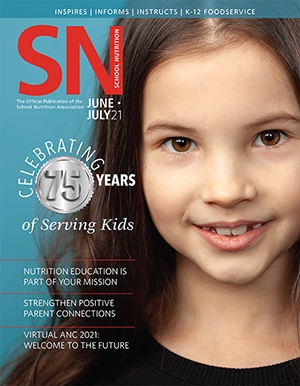 Get Access to School Nutrition
If you're an SNA member, sign in now to read the articles. If you are not a member, join to get access to all of the great content in School Nutrition!
Gain the Competitive Edge with School Nutrition Magazine
As the premier publication for the school nutrition profession, School Nutrition magazine is SNA members' go-to resource for information, inspiration and innovative ideas on important issues, both in and out of the cafeteria. By advertising, you'll not only promote your products and services to this important market segment via a reputable national magazine, you'll also be part of the movement to provide healthy meals to America's students.