School Nutrition: Dig In and Learn About American Agriculture
What images come to mind when you think of American farming? Are you transported to a small Midwestern farm with several acres of vegetables, or do you think of a large, corporate entity? Do you envision tractors and irrigation systems and other technology? In the June/July double issue of School Nutrition, the magazine gives you the dirt on the complex and ever-changing agriculture industry in America through farmer profiles, farm-to-school and farm-at-school initiatives, technology advancements and much more.
Log into your SNA account and scroll down to read this month's articles, view the digital issue or download a PDF of the magazine to print or share.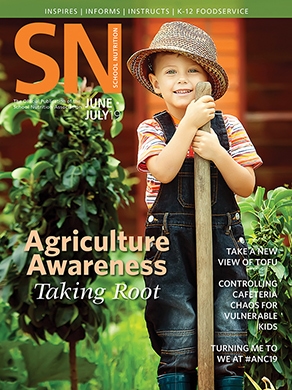 Get Access to School Nutrition
If you're an SNA member, sign in now to read the articles. If you are not a member, join to get access to all of the great content in School Nutrition!
Gain the Competitive Edge with School Nutrition Magazine
As the premier publication for the school nutrition profession, School Nutrition magazine is SNA members' go-to resource for information, inspiration and innovative ideas on important issues, both in and out of the cafeteria. By advertising, you'll not only promote your products and services to this important market segment via a reputable national magazine, you'll also be part of the movement to provide healthy meals to America's students.