School Nutrition: Creating Change Through Kindness
It's a new year—and that means it's time for School Nutrition magazine's annual personal development issue! Make 2022 the year you focus on yourself, whether you want to grow professionally or build new habits in your personal life.
Log into your SNA account and scroll down to read this month's articles, view the digital issue or download a PDF of the magazine to print or share.
In This Issue
Creating Change Through Kindness. In today's world, it's important to be kind now more than ever. But what is kindness? And, perhaps more importantly, what is it not? Learn how you can create a culture of kindness in your home and workplace.
Too. Much. To. Do.

Your to-do list is probably overflowing, but the HACCP model presents an unexpectedly effective way to manage your priority tasks.

We are Creatures of Habit.

Still figuring out your New Year's resolutions? Check out nine possible areas of focus for 2022, from getting better sleep to maintaining a gratitude practice.

Check Yourself Before You Wreck Yourself. 

Regular medical screenings and exams are vital to health and happiness, but the pandemic put a lot of check-ups on hold. Here are 10 medical screenings you 

really

shouldn't skip.

My 2022 Education Wishlist. 

Never stop learning! SN readers share their hopes and goals for a learning-centric new year. Let their aspirations be your inspiration!

Eatsa Pizza! If there's one school lunch that never goes out to style, it's pizza. Check out the top trends, the most-loved toppings and the debate over pineapple on a pie.
A Walk on the Wild Side.

Learn how one school nutrition director leveraged SNA's 2021 National School Lunch Week theme for a creative community collaboration.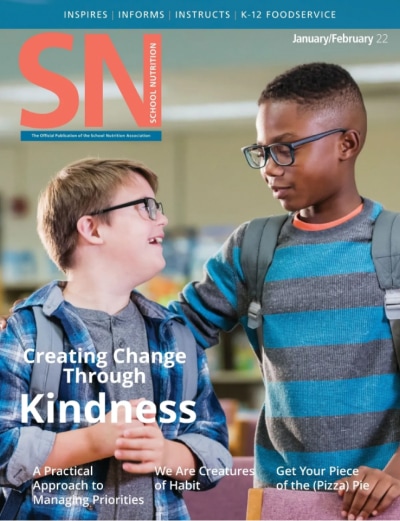 Get Access to School Nutrition
If you're an SNA member, sign in now to read the articles. If you are not a member, join to get access to all of the great content in School Nutrition!
Gain the Competitive Edge with School Nutrition Magazine
As the premier publication for the school nutrition profession, School Nutrition magazine is SNA members' go-to resource for information, inspiration and innovative ideas on important issues, both in and out of the cafeteria. By advertising, you'll not only promote your products and services to this important market segment via a reputable national magazine, you'll also be part of the movement to provide healthy meals to America's students.