School Nutrition: I Can Help!
Is giving back on your list of 2020 resolutions, but you're not quite sure how to go about volunteering? Fortunately, SN can help make this a reality with its January issue—the first of the decade!
Log into your SNA account and scroll down to read this month's articles, view the digital issue or download a PDF of the magazine to print or share. Here's what's covered:
Volunteering opportunities abound—they can be found just about anywhere from directly in your community to the deepest regions of cyberspace. You can lead a scout troop, read to hospital patients, help natural disaster victims or walk shelter dogs. Without leaving the comfort of your own home, you can provide marketing strategies to a non-profit, design a website, manage email marketing, develop an app and so much more. There is a volunteer opportunity for just about anyone! But do you know how to find an opportunity that's right for you? (And are there roadblocks stopping you from giving your time?)
In addition to giving back to others, volunteering can help us, too. In fact, the act of giving back has a host of health benefits. But after you've signed up to coach Little League, serve at the food bank or work at the local theater, you may be feeling burnt out. Should you find yourself overstretched with volunteer responsibilities, discover some ways to cope.
Check out SN's January issue to find inspiration and motivation to volunteer through the stories of SNA members who are doing just that. From foster dog parent to Red Cross rescue mission leader, members share anecdotes of why and how they give back and how it's impacted their lives.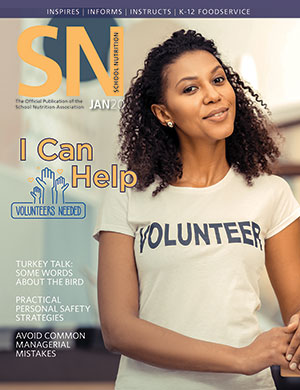 Get Access to School Nutrition
If you're an SNA member, sign in now to read the articles. If you are not a member, join to get access to all of the great content in School Nutrition!
Gain the Competitive Edge with School Nutrition Magazine
As the premier publication for the school nutrition profession, School Nutrition magazine is SNA members' go-to resource for information, inspiration and innovative ideas on important issues, both in and out of the cafeteria. By advertising, you'll not only promote your products and services to this important market segment via a reputable national magazine, you'll also be part of the movement to provide healthy meals to America's students.