Personal Development—Travel
Don't sit around steeped in isolation and trepidation! Let SN's January 2019 edition on personal development inspire you and…oh, the places you'll go! Whether planning for parts unknown; going here, there and everywhere, man; or getting that ticket to ride, this issue is your destination for vacation elation. Then, jet set over to Food Focus where there's no lack of mac (& cheese) ideas. Don't forget to travel to page 17 for the SNA Election Special, including the Candidates Q&A.
Log into your SNA account and scroll down to read this month's articles, view the digital issue or download a PDF of the magazine to print or share. Here's what's covered:
Planning for Parts Unknown The prospect of unfamiliar destinations can be an anxiety-inducing idea, whether you are new to travel or have done it many times over. Read this information-packed feature to see why it doesn't have to be!
Planes, Trains and Automobiles (Plus Buses and Boats) With this handy primer, go to and fro during your next vaycay with ease—no matter the transport you choose.
Vacation Elation Get a sense of what your next dream vacation could really be from those who have been—and plan to go again!
Let Go of Your Travel Fears & Excuses Embrace opportunity and discard negativity with this guide of debunked travel trepidations.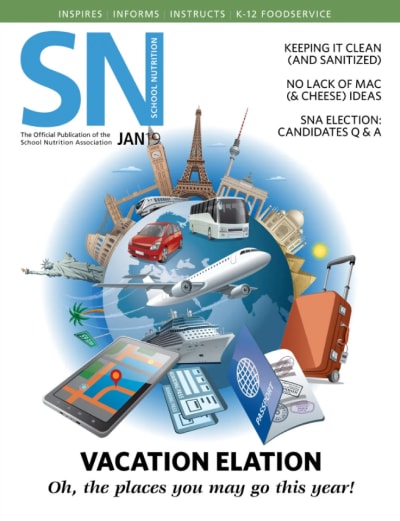 Get Access to School Nutrition
If you're an SNA member, sign in now to read the articles. If you are not a member, join to get access to all of the great content in School Nutrition!
Gain the Competitive Edge with School Nutrition Magazine
As the premier publication for the school nutrition profession, School Nutrition magazine is SNA members' go-to resource for information, inspiration and innovative ideas on important issues, both in and out of the cafeteria. By advertising, you'll not only promote your products and services to this important market segment via a reputable national magazine, you'll also be part of the movement to provide healthy meals to America's students.