School Nutrition: Embracing Differences
In part one of two planned issues focusing on the topic of Diversity, Equity and Inclusion (DEI) in 2021, School Nutrition's February issue encourages readers to embrace our differences, celebrate all cultures and build diverse, inclusive teams. This can't-miss issue also shares the latest on the Dietary Guidelines and provides inspiration for developing a recipe competition in your district.
Log into your SNA account and scroll down to read this month's articles, view the digital issue or download a PDF of the magazine to print or share. Here's what's covered:
SN offers a quick overview of the recently released Dietary Guidelines for American 2020-2025 in "Bite by Bite." Learn more about the Dietary Guidelines are developed, its four key tenets and key terms you need to know.
Speaking of key terms you need to know, " Unpacking the Fundamentals of DEI" provides a primer on the concept of diversity, equity and inclusion (DEI), which is at once both complex and common sense.
Take the initiative to build more diverse and inclusive teams. "Break Through the Bias Bottleneck," by Ervin Watson, takes a look at innate biases and how to move past them to create a diverse team in your district.
It seems like every day, week and month of the year is some sort of "national holiday." However, national cultural heritage and history observance and events matter, and "Today, We Celebrate!" by Kelsey Casselbury, explains why.
Too often overlooked, African cuisine has made—and continues to make—meaningful contributions to American food culture. "Out of Africa," by Kelsey Casselbury, looks back at how the Atlantic Slave Trade brought now-staple foods to American shores, the impact of Soul Food, and more (plus, five regulation-compliant African-inspired recipes!)
Inject a little competition—and a lot of fun!—into your site teams' workdays with recipe-development competitions. In "Operation Dream Dish," by Patricia L. Fitzgerald, two districts share how they did it.
Plus, the School Nutrition Association continues to celebrate its 75th anniversary with interviews featuring the leaders of yesterday, today and tomorrow. This month, Mary Begalle, SNS (Consultant, Chaska Minn.), Angela Olige (Assistant Commissioner, Texas Department of Agriculture) and Tiffany McCleese, DTR, SNS (Child Nutrition Coordinator, West Clermont (Ohio) Local School District), reflect on the history of the profession, as well as future opportunities.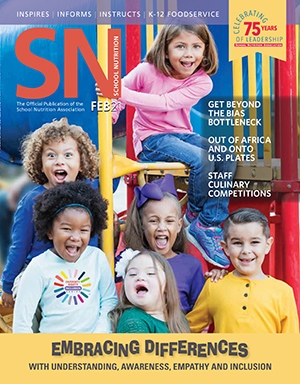 Get Access to School Nutrition
If you're an SNA member, sign in now to read the articles. If you are not a member, join to get access to all of the great content in School Nutrition!
Gain the Competitive Edge with School Nutrition Magazine
As the premier publication for the school nutrition profession, School Nutrition magazine is SNA members' go-to resource for information, inspiration and innovative ideas on important issues, both in and out of the cafeteria. By advertising, you'll not only promote your products and services to this important market segment via a reputable national magazine, you'll also be part of the movement to provide healthy meals to America's students.