School Nutrition: Partnering Against Hunger
The February 2019 theme of SN is no small matter: we all know that a hungry child cannot learn. So, what can we do to weave a stronger hunger safety net? This month, SN shares some "recipes" to help you do more for the children you feed and serve every day in your kitchens and in your communities. One step in the right direction? Try serving up school garden harvests with this month's Food Focus. Then, tune into our main features:
Log into your SNA account and scroll down to read this month's articles, view the digital issue or download a PDF of the magazine to print or share. Here's what's covered:
Do More, Feed More. School nutrition professionals—YOU—could be the key to ending hunger in this country.
Can We Weave a Hunger Safety Net? No Kid Hungry's Laura Hatch, MPH, teams up with Arianne Corbett, RD, from Leading Health to promote partnerships with anti-hunger organizations.
Recipes to End Hunger. Your school meals operation fills their bellies—maybe it's even a School Nutrition Hub—but what can you do beyond school meals to address food insecurity? SN's Beth Roessner has the story.
Giving in Kind. Follow Foodservice Manager Heather Haynes interstate mission as she organizes an initiative for two homeless communities.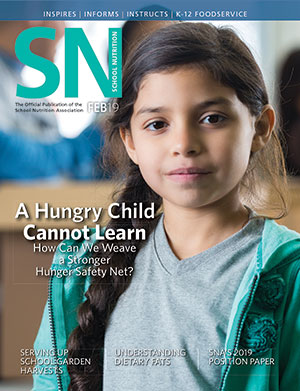 Get Access to School Nutrition
If you're an SNA member, sign in now to read the articles. If you are not a member, join to get access to all of the great content in School Nutrition!
Gain the Competitive Edge with School Nutrition Magazine
As the premier publication for the school nutrition profession, School Nutrition magazine is SNA members' go-to resource for information, inspiration and innovative ideas on important issues, both in and out of the cafeteria. By advertising, you'll not only promote your products and services to this important market segment via a reputable national magazine, you'll also be part of the movement to provide healthy meals to America's students.