School Nutrition Goes Wild!
There's a ton to unpack in the April issue of School Nutrition magazine, starting with the debut of the 2021 and 2022 National School Lunch and Breakfast Weeks! This month's issue also focuses on kitchen equipment, both large and small, with operators sharing their top choices for small appliances and their best tips for procuring, using, maintaining and replacing large equipment. Plus, hope springs eternal during the month of April, and we're looking at the future with an eye on optimism and humor.
Log into your SNA account and scroll down to read this month's articles, view the digital issue or download a PDF of the magazine to print or share. Here's what's covered:
Get ready to go wild as you take off for an exciting new school year! Use the "2021-22 NSLW & NSBW Preview" to prepare for next year's celebrations. Campaigns such as National School Lunch and School Breakfast Weeks spotlight your amazing work and the benefits of the meals you serve.
When COVID hit, the amount of packaging that K-12 operations needed skyrocketed. "Solving the Carryout Dilemma of COVID-19," by Dylan Roche, looks at what changing the model for school meal service meant in terms of baggies, containers, wrappings and other resources.
Kitchen equipment is one of the biggest investments that a foodservice department can make. In "(Stainless) Steel Going Strong" by Editor Patricia L. Fitzgerald, operators share hints and tips to improve the process of procuring, using, maintaining and replacing school kitchen equipment.
Some equipment isn't large, but it makes a huge difference. In "All Things Great and Small," by Contributing Editor Kelsey Casselbury, K-12 operators share favorite equipment that may be short in physical stature but colossal in impact.
Whether smoked or grilled, as chops or loin, pork provides a protein-packed center of the plate pick for breakfast, lunch and dinner. "The Whole Hog," by Contributing Editor Kelsey Casselbury, looks at pork (is it red meat or white meat?) and offers up multiple K-12 recipes to try.
Plus, the School Nutrition Association continues to celebrate its 75th anniversary with interviews featuring the leaders of yesterday, today and tomorrow. This month, past SNA President Karen Johnson, SNS; ICN Executive Director Aleshia Hall-Campbell, PhD, MPH; and Stefanie Dove, MBA, RDN, SNS, of Kellogg Company reflect on the history of the profession, as well as future opportunities. The April 2021 issue of School Nutrition   is available now—read it today!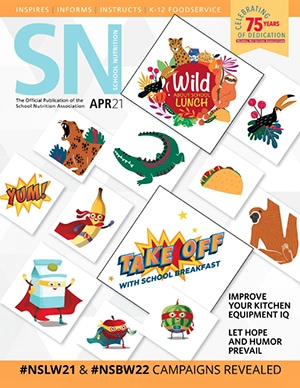 Get Access to School Nutrition
If you're an SNA member, sign in now to read the articles. If you are not a member, join to get access to all of the great content in School Nutrition!
Gain the Competitive Edge with School Nutrition Magazine
As the premier publication for the school nutrition profession, School Nutrition magazine is SNA members' go-to resource for information, inspiration and innovative ideas on important issues, both in and out of the cafeteria. By advertising, you'll not only promote your products and services to this important market segment via a reputable national magazine, you'll also be part of the movement to provide healthy meals to America's students.