School Nutrition: A Pandemic Primer
The month of March happened in a blur: No sooner had it kicked off the world toppled into a global pandemic fighting a never-before-seen disease: COVID-19. This new strand of coronavirus stopped life abruptly: schools shuttered, businesses closed their doors, individuals lost their jobs, places of worship stopped services, airlines were grounded, sporting events were cancelled and American citizens were instructed to stay indoors.
Log into your SNA account and scroll down to read this month's articles, view the digital issue or download a PDF of the magazine to print or share. Here's what's covered:
Because this pandemic caught most people off guard, confusion and information-overload became unintended consequences. Plus, in a constantly updating news cycle, it can be hard to receive reliable information. This special edition of School Nutrition acts as your pandemic primer. Understanding that information concerning the disease is quickly updating, please be aware that the material presented in April issue was accurate as of press-time.
You've probably heard the terms "coronavirus" and "COVID-19" used a lot recently, but do you fully understand the difference? How series is this illness? Do you now the symptoms and how it differs from the flu or seasonal allergies? Get the basics on the disease and the pandemic, and SN answers many of your common questions to help you stay informed.
Working with USDA's Food and Nutrition Service was paramount to ensure students could continue to receive access to school meals. As parents grappled with childcare issues as schools were shuttered, an unintended consequence was how students would continue to receive the school meals they rely on. SNA immediately started meeting with government officials and advocated on behalf of members. Once regulation flexibilities were instituted, many school districts across the country stepped up and continued to feed students. To continue to keep members informed of the rapidly developing situation, SNA instituted a new COVID-19 webinar series, sent out numerous member communications and made the difficult decision to cancel the upcoming National Leadership Conference (NLC) scheduled for late April.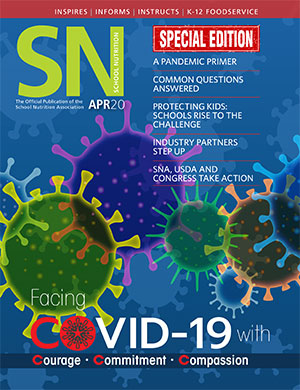 Get Access to School Nutrition
If you're an SNA member, sign in now to read the articles. If you are not a member, join to get access to all of the great content in School Nutrition!
Gain the Competitive Edge with School Nutrition Magazine
As the premier publication for the school nutrition profession, School Nutrition magazine is SNA members' go-to resource for information, inspiration and innovative ideas on important issues, both in and out of the cafeteria. By advertising, you'll not only promote your products and services to this important market segment via a reputable national magazine, you'll also be part of the movement to provide healthy meals to America's students.